These bite-sized Cajun Crab Cakes are a perfectly delicious start for my new Spring appetizer theme.
Appetizers For Spring
Spring has been a long time coming where I live, here in Canada. And now that spring seems to have finally arrived, it's time to celebrate the food that welcomes in this season. We can finally enjoy the first bright tastes of fresh. It's a short window of time to feast on all that we can glean from what is poking up from the garden or harvested from the sea.
These mini Cajun Crab Cakes were the first of my spring appetizer series, and they are a celebration of spring, garnished with a garlic chive aioli, and served on a bed of pea shoots. You can serve them at a Spring Wine & Appetizer Pairing, along with more spring-themed appetizers, like Asparagus Puffs, or Cucumber Radish Crostini.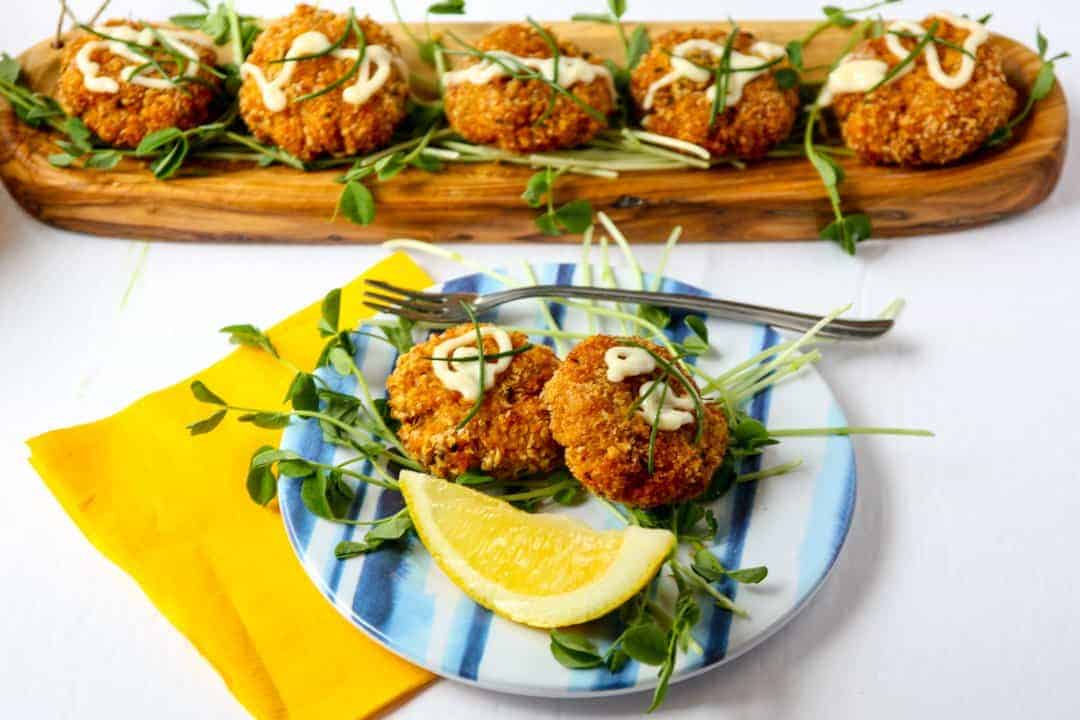 The Origins of Crab Cakes
Crab Cakes are a favourite dish of the northern coastal regions of the USA and Canada. The state of Maryland lays claim to the invention of this truly delectable dish, and we should all be grateful to them for giving it to us, because, crab cakes are a deliciously easy, and versatile recipe.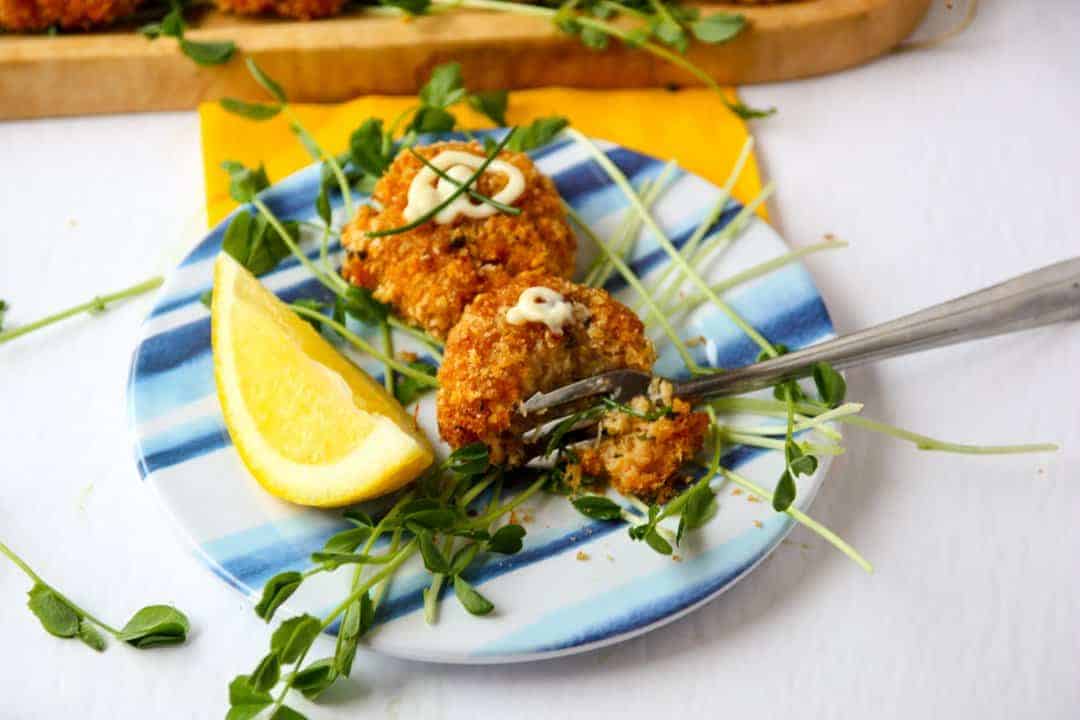 Fun Facts About Crab
Did you know that crabs live in all of the oceans in the world? The crustacea also live in fresh water, as well as on land. Crabs are incredibly interesting, who knew? Check out this cool video if you're interested: Interesting Facts About Crabs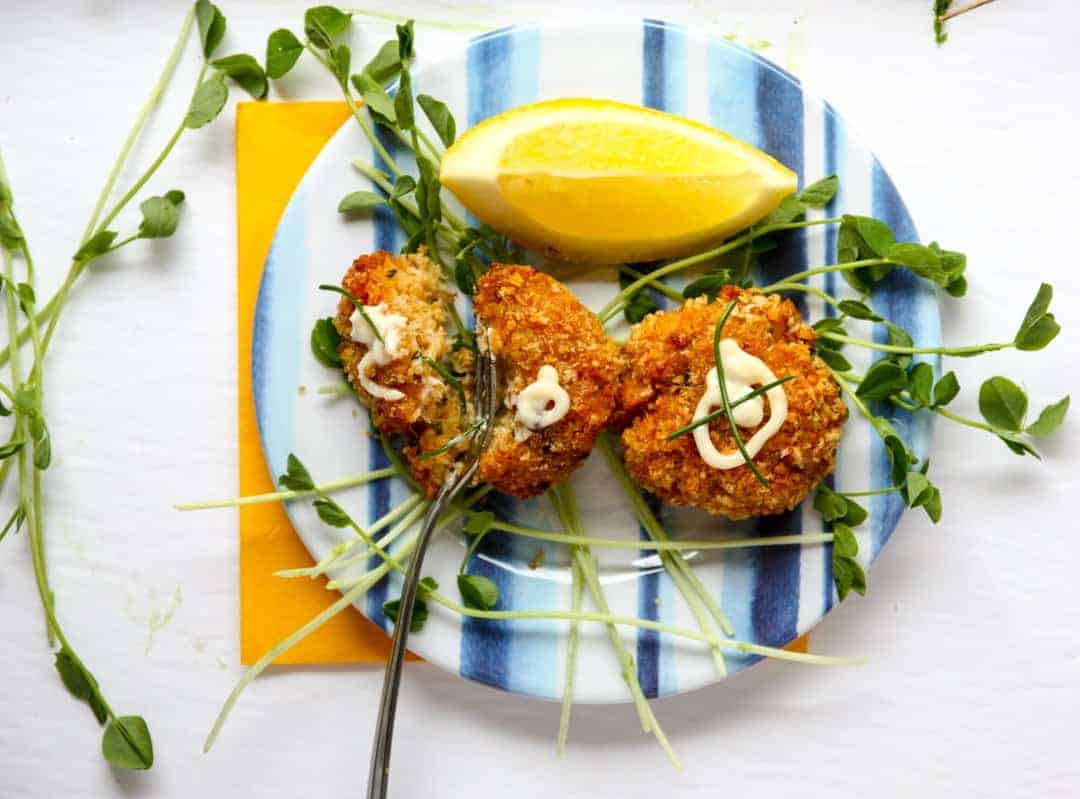 Crab Nutritional Information
Crabmeat is low in calories, and most of those calories are protein. Crab is a complete source of protein. It supplies all of the 20 amino acids that your body needs to make new proteins. It's also an excellent source of B Vitamins, especially B 12, a vitamin that enables your body to produce healthy red blood cells, strong brain function, and reduces your risk of cardiovascular disease, according to the National Institutes of Health.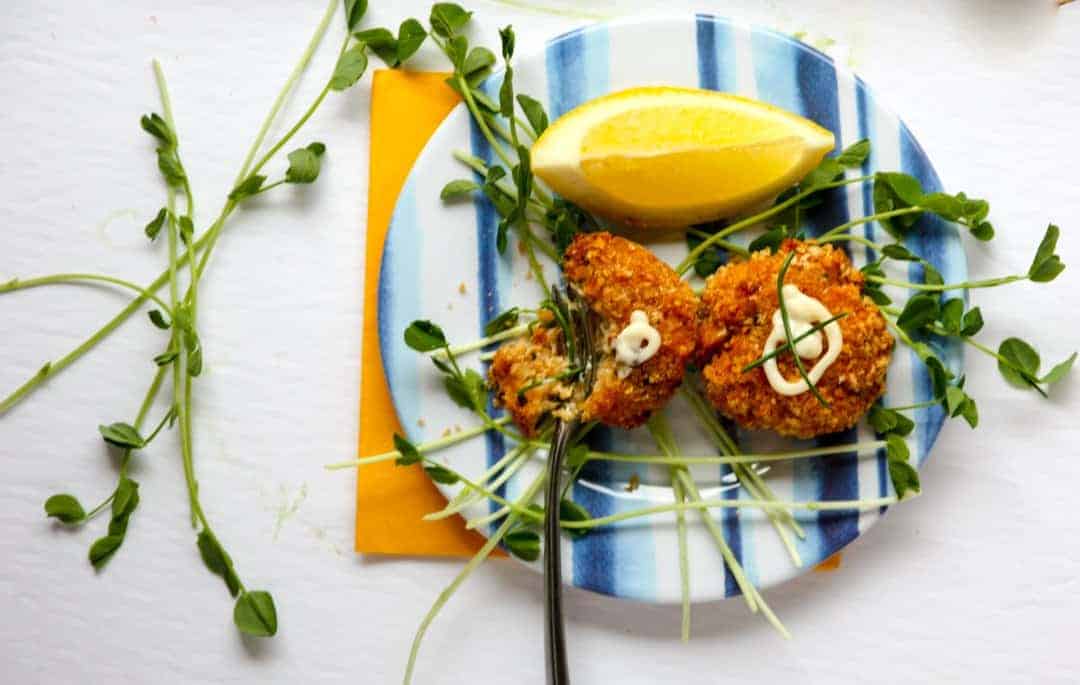 Choosing Sustainable Seafood
Those of us that eat food from the sea, as well as those that make their living supplying that food, are increasingly aware of sustainability. We need to ensure that our oceans are healthy and able to produce food. Not only for ourselves, but for so many other species who depend on it. Therefore, when shopping for seafood, look for the Marine Stewardship Council, or Ocean Wise label. These labels ensure that the fish was caught using sustainable practices.
Cajun Seasoning
You can make these Cajun Crab Cakes with a store-bought Cajun seasoning. Or, you may want to check out this simple recipe for making your own: Cajun Seasoning You probably have all the ingredients already in your spice cabinet.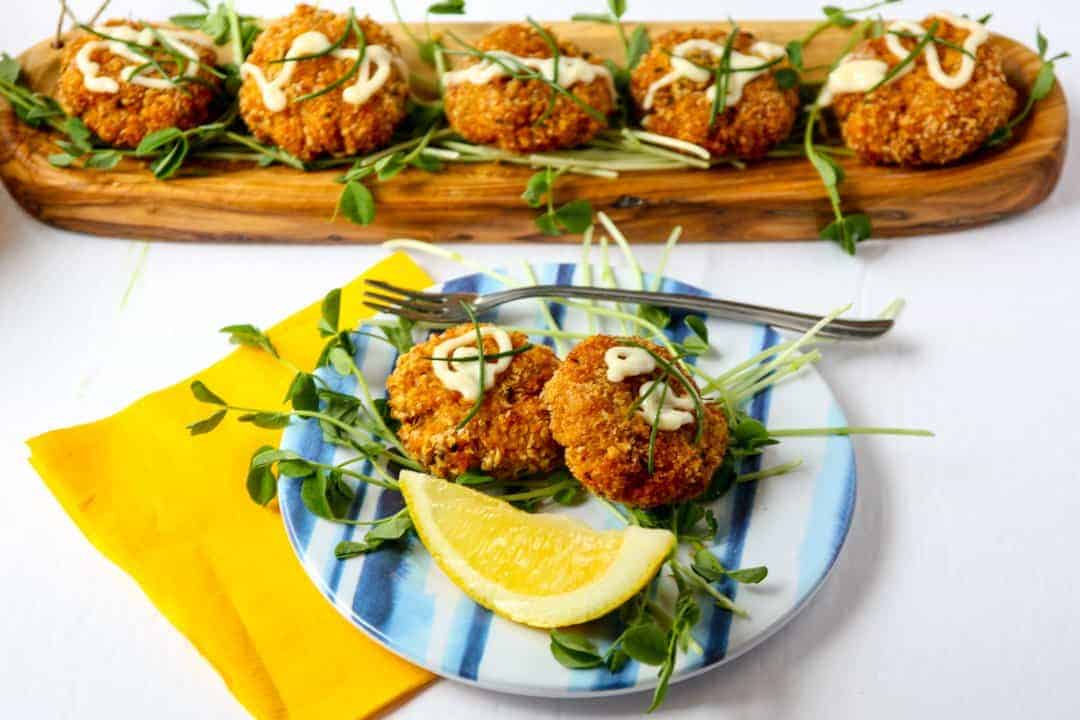 Cajun Crab Cakes
Cajun Crab Cakes are an easy to make and delicious appetizer that bakes in the oven and can be made ahead, too.
Ingredients
Cajun Crab Cakes
1/2

lb

shelled crab meat

1/4

cup

real mayonnaise

1

egg

beaten

1.5

cup

panko bread crumbs

1

lemon

juice and zest of, reserving 1 tbsp for Garlic Dill Aoli

1

tbsp

Cajun seasoning

1

cup

fresh pea shoots
Garlic Dill Aoli
1/4

cup

real mayonnaise

1

tbsp

fresh lemon juice

2

tbsp

fresh garlic

minced

2

tbsp

fresh chives

chopped

fresh chives

for garnish
Instructions
Cajun Crab Cakes
Line a baking sheet with parchment paper

In a large bowl, gently combine crab, mayonnaise, egg, 3/4 cup of the panko crumbs, lemon juice and zest, and Cajun seasoning.

Put the remainder of the panko crumbs on a plate

With your hands, shape the mixture into balls, about 2 tbsp each, then flattening each ball with your palm into a small patty.

Press each patty gently into the panko crumbs on the plate, then turn to coat the other side. Transfer patties to the prepared baking sheet, evenly spaced.

Bake in center of the oven for 15 minutes, turning halfway through, until golden brown and firm.

Scatter pea shoots on a platter, then transfer baked Cajun Crab Cakes on top
Garlic Chive Aioli
In a bowl, mix together mayonnaise, reserved lemon juice, garlic, and chives.

Spoon a dollop of Garlic Chive Aioli on top of each Cajun Crab Cake

Garnish with fresh chives
Notes
Starting with cold ingredients, including the crabmeat, mayonnaise, and egg make the patties easier to work with and ensures they won't fall apart.
You can substitute two six oz cans of crabmeat, drained for the fresh crab.
Nutrition
Serving:
1
crab cake
Calories:
93
kcal
Carbohydrates:
5
g
Protein:
4
g
Fat:
6
g
Saturated Fat:
1
g
Cholesterol:
19
mg
Sodium:
211
mg
Potassium:
66
mg
Vitamin A:
305
IU
Vitamin C:
15.7
mg
Calcium:
23
mg
Iron:
0.6
mg
Tried this recipe? What changes did you make?
Let us know how it was!