Beet Soup, also called Borscht, is a simple, yet incredibly flavourful soup. This delicious soup is easy to make and a comforting, satisfying, and nutritious meal in a bowl.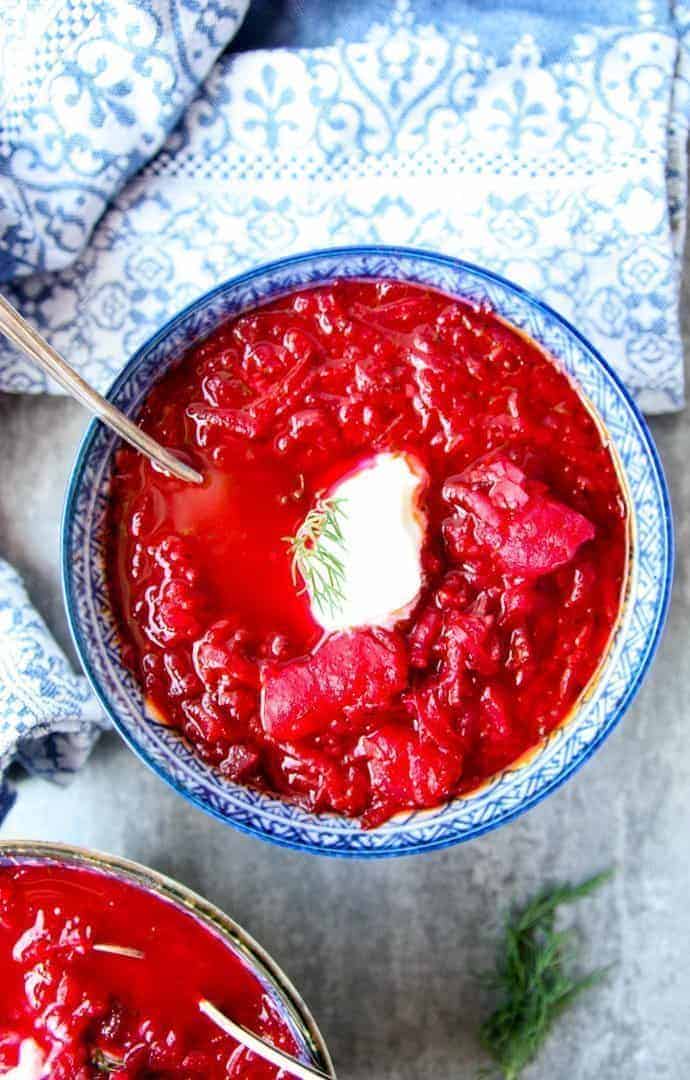 What is Borscht?
Borscht is a beet-based soup, often with cabbage, potatoes, and sometimes, sausage or beef. But, this soup always has beets, which is what gives it a beautiful ruby colour.
Where Does Borscht Come From?
The origins of this beet soup are in Eastern Europe, originating in Ukraine, but also commonly made in Russia, Poland, and Hungary, as well as the regions in North America that those populations settled when immigrating here.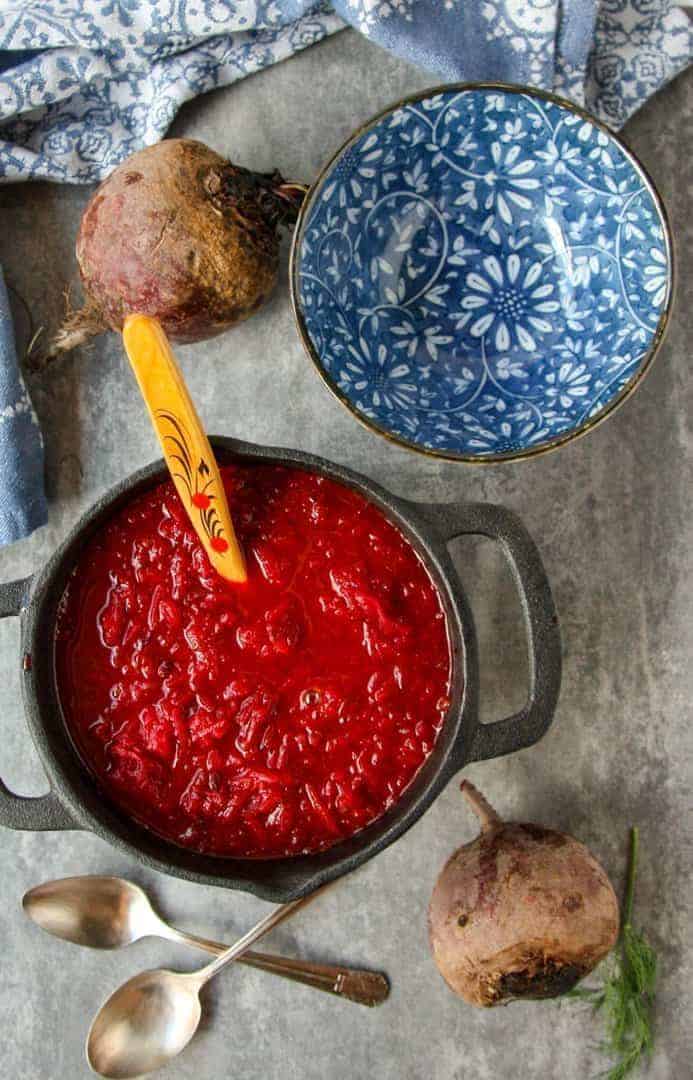 The Many Variations of Borscht
There are many, many variations of the recipe for this beet soup, differing based on the countries that they come from, to the cooks that make them, to the ingredients that are plentiful in that region, and the recipes that have been passed down through generations. In fact, for me, this recipe is a very different version of the borscht that I grew up knowing.
I grew up in the Kootenay region of British Columbia, where there is a very large Doukhobor community. Until I ventured out in the culinary world, the Doukhobor version of borscht was the only one that I knew. I promise to post that recipe soon, because it is delicious in its own right, and still my favourite.
Is Beet Soup Vegetarian?
For me, Borscht is always meatless, however, there are many beet soup and borscht recipes using beef ribs, ground beef, and sausage. This vegetarian version is closer to what I am used to, and it tastes amazing without any meat.
Tartness is Key for Beet Soup
This recipe has so much sweetness from the beets, which is wonderful and to balance that sweetness, it's important to introduce a few tart notes to the soup. I used lemon juice in this recipe, and you can also use apple cider vinegar.
Another tart addition is sour cream or Greek yogurt. These are traditionally added as a garnish, then stirred into the soup to make it creamy, tart and rich.
How To Season Your Beet Soup
To season this soup, you absolutely need to have dill. Fresh dill is always best, but dried dill will work, too. Something is amazing about the pairing of beets and dill. The only other major seasoning in this recipe, besides the lemon, is garlic. And of course, salt and pepper.
Beet Nutrition Info
Besides this delicious soup, if you need another reason to eat beets, it's because, besides being delicious, beets are also incredibly nutritious. Beets are low in calories, but very high in vitamins and minerals, as well as antioxidants and fibre. Check out just how nutritious these root veggies really are for us in more depth here: Nutrition Benefits of Beets
Looking For More Beet Recipes?
Do you love beets as much as I do? If so, check out these recipes, too:
Wild Rice Salad – Roasted Beet Salad
Beet Salad with Grapefruit, Blue Cheese & Walnuts
Borscht - Ukrainian Beet Soup
This soup, is hearty, delicious, and beautiful, besides being easy to make and very nutritious.
Ingredients
2

tbsp

olive oil

1

onion

large, diced

2

garlic cloves

minced

6

cups

vegetable stock

1

lb

beets

peeled & shredded

2

cups

cabbage

shredded

3

carrots

peeled & shredded

2

potatoes

peeled & diced

3

tbsp

dill

fresh, chopped

1

lemon

juice of

salt & pepper to taste

sour cream or Greek yogurt

optional
Instructions
Heat oil in a large pot over medium heat

Add onions and garlic, cooking until onions are softened and translucent, about 5 minutes

Add vegetable stock, and bring to a boil

Add beets, cabbage, and carrots

Bring back to a boil, then reduce heat to a simmer.

Cover and allow to simmer 15 minutes, or until all veggies are tender.

Add potatoes, cover, and simmer a further 15 minutes, or until potatoes are tender

Remove soup from heat and stir in lemon juice, dill, and season to taste with salt & pepper.

Serve with sour cream or Greek yogurt for garnish, along with more fresh dill
Notes
A food processor makes short work of this soup, reducing the chopping, & long cooking time of beets. If you don't have one, chop your veggies as small as possible.
The calorie value for this recipe is calculated without the addition of sour cream or yogurt. Typically, a tablespoon of sour cream or yogurt would be added to each serving.
Nutrition
Serving:
1
g
Calories:
139
kcal
Carbohydrates:
20
g
Protein:
7
g
Fat:
5
g
Saturated Fat:
1
g
Sodium:
123
mg
Potassium:
698
mg
Fiber:
5
g
Sugar:
7
g
Vitamin A:
3869
IU
Vitamin C:
25
mg
Calcium:
55
mg
Iron:
3
mg
Tried this recipe? What changes did you make?
Let us know how it was!