A Beet & Grapefruit Salad is delicious anytime, but especially nice at this time of year when citrus fruits are in season. In this salad, I combined sweet roasted beets and tart grapefruit. Toasty walnuts and blue cheese are perfect complements.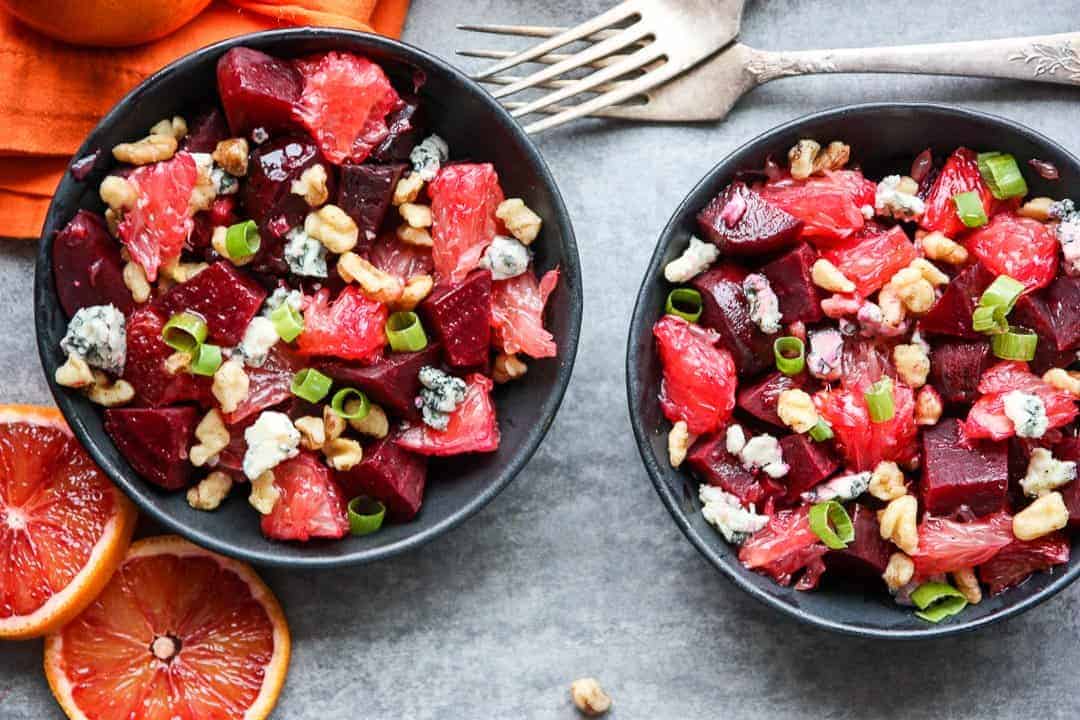 Beet & Grapefruit salad is perfect for packed lunches, and a lovely starter for a wintery roast meal. Winter just won't let go of us here. We live in the one part of Canada, where winters are usually fairly mild and short. But not this winter. The snow just keeps coming, with no end in sight. I think most everybody has had enough winter by now.
Sunny Citrus is Perfect With Sweet Roasted Beets
That's why I love citrus fruits. They have a sunny flavour that just brightens up a dreary winter day. They even look like sunshine. And they come from sunny places, so maybe they bring a little of that warm sun with them, at least the essence of it. We especially love the sweet tartness of grapefruit, my favourite being the pinks. We've also been getting our fill of navel, Valencia, and blood oranges. And lemons and limes are always in the fridge, year-round. When we can't get seasonal fruit locally, we can at least get in-season fruit from somewhere, right?
Beet Peeling 101
The beets, on the other hand, are local and organically grown right here. Beets, like other root vegetables, keep well, with is a blessing at this time of year. Beets are messy, though. Do you hate staining your hands, countertops and cutting board? Try this tip from Real Simple: How to Peel Beets.
I had some blood oranges, so I used them in this beet salad along with the grapefruit. But regular oranges would be even better, for a more colourful salad. Use those if you have them, but the salad is so good either way.
I know that not everyone is a fan of blue cheese, so feel free to swap it for feta if you aren't. It will be just as delicious. Or you can leave out the cheese altogether to make this a vegan salad.
If you're still hungry for beet salads, you may want to check out Wild Rice and Roasted Beet Salad, Roasted Beet and Apple Salad or Beet Pistachio & Orange Salad
Beet Salad with Grapefruit, Blue Cheese & Walnuts
Beets & Grapefruit are vibrant and delicious together in this nutritious, tasty salad.
Ingredients
Roasted Beets
4

medium beets

2

shallots

sliced

1/2

tsp

salt

1/2

tsp

pepper

1

large red grapefruit

peeled, sectioned, with pith removed

2

oranges

peeled, sectioned, with pith removed
Dressing
2

tbsp

extra virgin olive oil

2

tbsp

apple cider vinegar

1/2

tsp

coarse salt

1/2

cup

walnuts

toasted

1/4

cup

blue cheese

crumbled

2

green onions

sliced
Instructions
Preheat oven to 400°

wrap beets in foil, and place on a baking tray, along with sliced shallots

Roast until beets are fork-tender, about 30 minutes. Remove from oven, open foil, and allow to cool

When beets have cooled, rub the skins off with paper towel. Cut them into cubes.

In a bowl, combine beets, grapefruit and orange segments

Whisk together olive oil, cider vinegar, and salt. Pour over salad and toss to coat

Add walnuts and blue cheese and gently combine

Refrigerate for about an hour

top with green onions for serving
Notes
Most of the time allotted for this recipe is the roasting time for the beets. You can roast the beets anytime and keep in the fridge until you want to make this salad; or, use leftover beets.
If you or someone you are serving has a nut allergy, you can leave out the nuts. The slightly bitter crunch is what they bring, so if you can, substitute arugula, or radicchio.
Nutrition
Serving:
3
g
Calories:
273
kcal
Carbohydrates:
28
g
Protein:
6
g
Fat:
19
g
Saturated Fat:
4
g
Cholesterol:
6
mg
Sodium:
477
mg
Potassium:
621
mg
Fiber:
6
g
Sugar:
18
g
Vitamin A:
1005
IU
Vitamin C:
60.1
mg
Calcium:
121
mg
Iron:
1.5
mg
Tried this recipe? What changes did you make?
Let us know how it was!