I'm sneaking in this Cherry Almond Clafoutis recipe at the very end of the cherry season because I want to get in one last recipe while I can still get local cherries.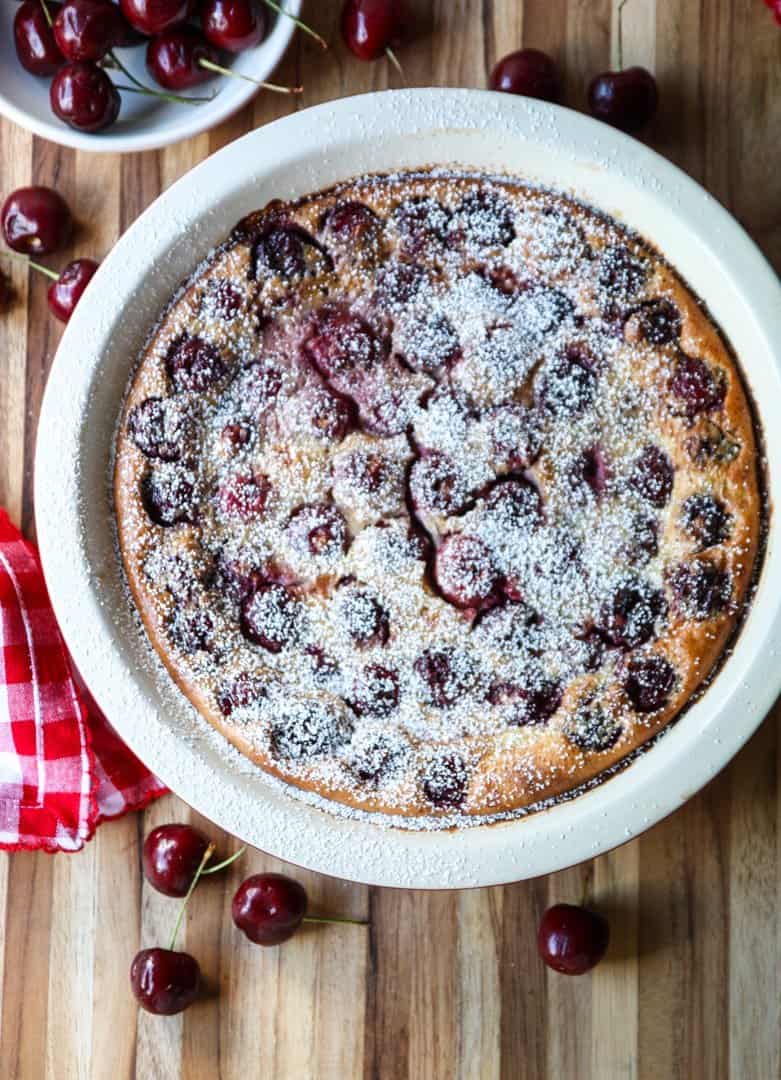 What is Clafoutis?
Clafoutis is a French dessert using summer fruit, traditionally cherries, baked in a crepe-like batter. Clafoutis has a custard-like texture similar to a flan. Although clafoutis is an elegant dessert, it couldn't be simpler to make. It's perfect for breakfast, brunch, or dessert. And it's a delicious way to use summer fruit.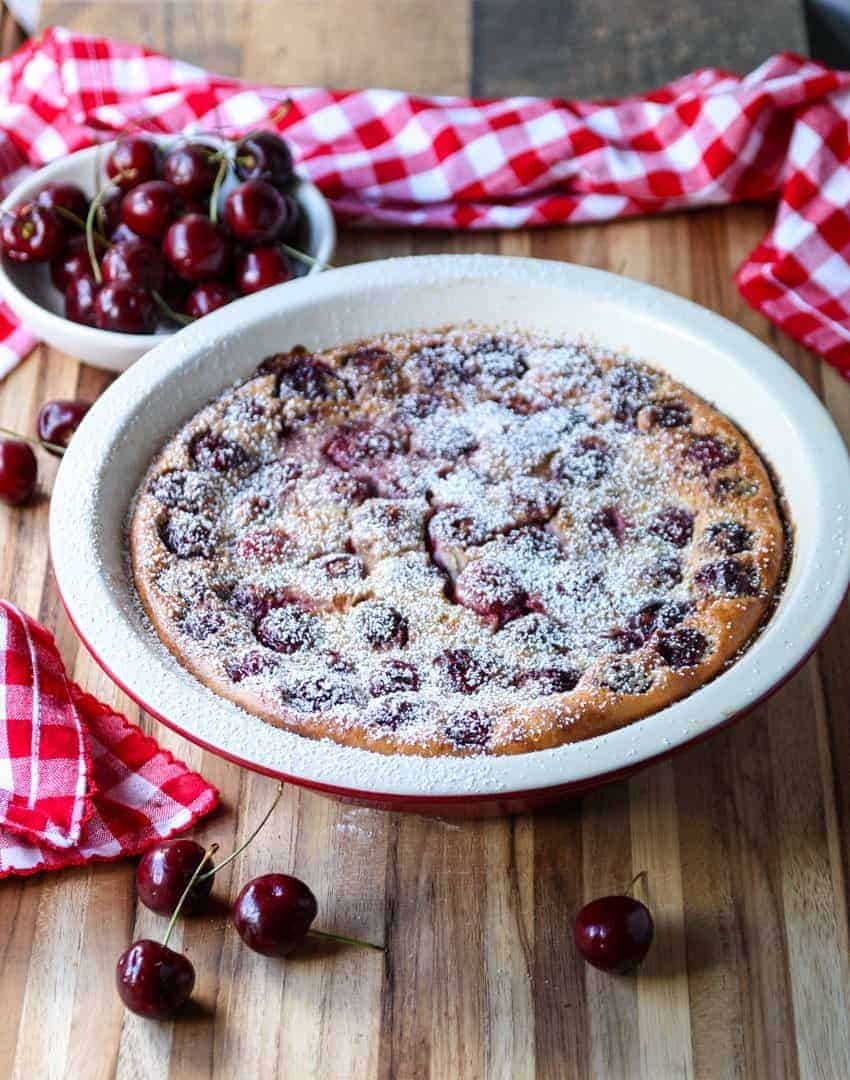 How to Pronounce Clafoutis
It's a funny word, Clafoutis. If you're going to serve this dessert, it's a good idea to know how to say it. It's pronounced in French as kla-foo-TEE, and in English as kla-FOO-tee.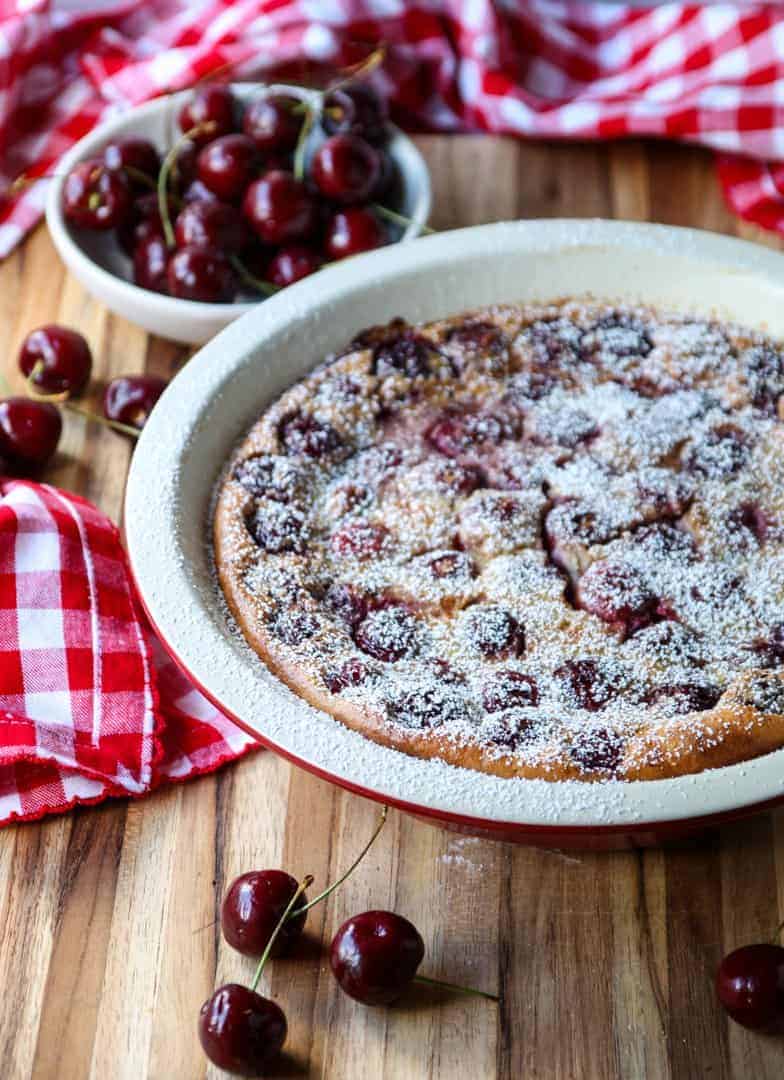 To Pit the Cherries, or Not?
Traditionally, clafoutis is made with unpitted cherries. The reason for keeping the cherry pits is to impart some of the almond flavours that the pits contain. Which is why cherries and almonds are naturally a classic pairing. In addition, pitting the cherries allows the cherry juice to colour the custard, which is not an issue for me.
I prefer to pit the cherries so that nobody breaks a tooth eating my cherry almond clafoutis. However, I still have plenty of almond flavour via almond flour, as well as almond milk in this recipe.
I have a cherry pitter, which is an inexpensive but very handy tool to have in the kitchen during cherry season. It makes short work of pitting cherries for this recipe as well as Cherry Walnut Couscous Salad, Cherry Amaretto Ice Cream, or Pickled Balsamic Cherries.
If you don't have a cherry pitter, check out How to Pit Cherries Without a Pitter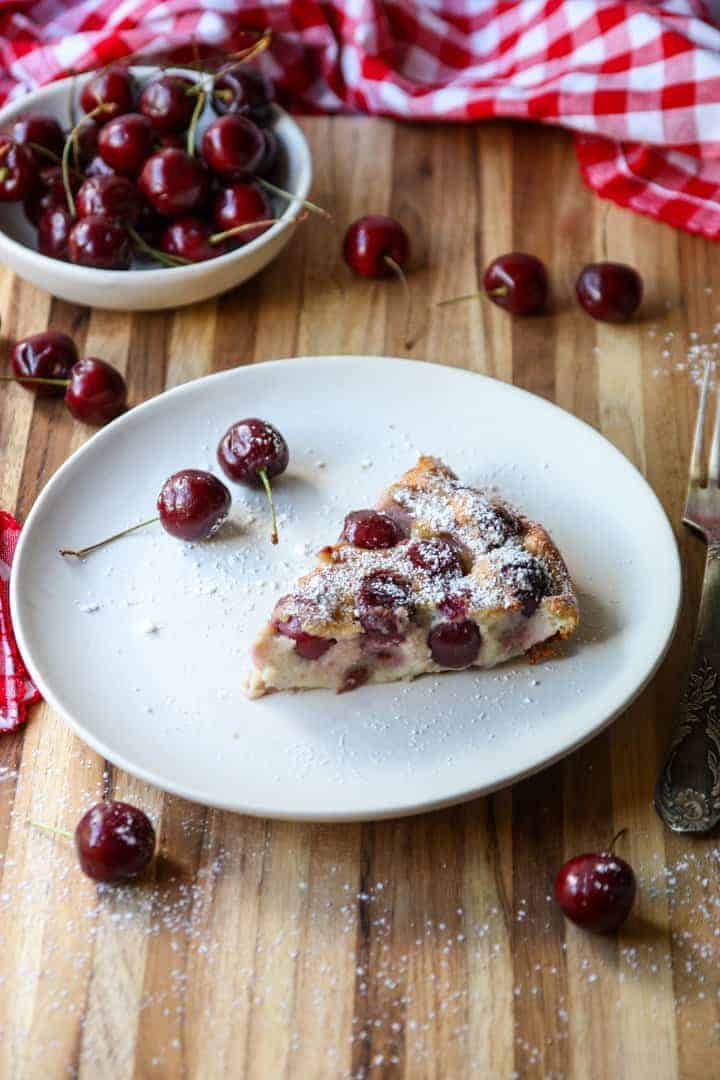 Can I Make Cherry Almond Clafoutis Ahead?
Clafoutis is delicious warm from the oven, but equally nice cold. So yes, you can make this dessert in the morning, and serve it for dessert after dinner, either cold or gently re-heated. To reheat, cover with foil and put it in a low-temperature oven until heated through.
What Kind Of Baking Pan Do I Need?
You can bake clafoutis in just about any oven-safe dish. I used a pie plate here, but I often make it in a cast-iron skillet. A cake pan or casserole dish will also work. And you can even bake individual clafoutis in ramekins or muffin tins.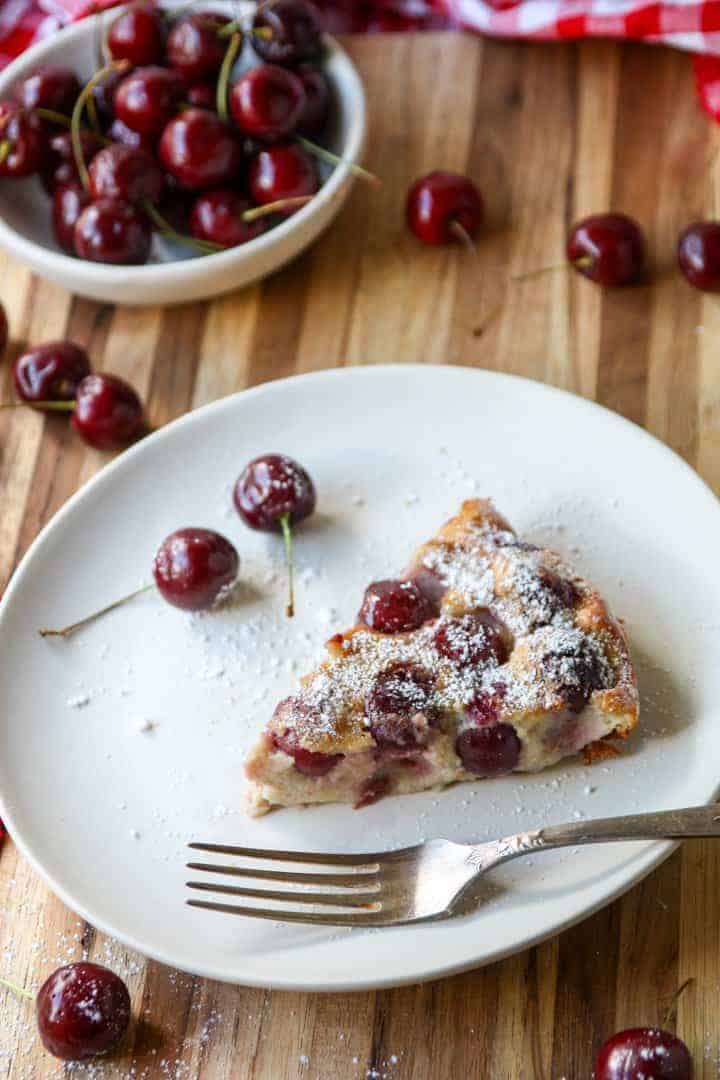 Can I Use Other Fruits Besides Cherries?
Cherries are classic for clafoutis, but just about any fruit will be perfect in a clafoutis. Try peaches, apricots, blueberries, raspberries, plums or any combination. Stone fruits and berries are particularly suited to this dessert, but you can even use apples, pears, or citrus fruits, too.
Can I Use Frozen Fruit In Cafloutis?
Yes, you can use frozen fruit. If you stash some of that glorious summer fruit in the freezer, you can make clafoutis any time of year. Just be sure to thaw the fruit completely, and drain off any juices before baking.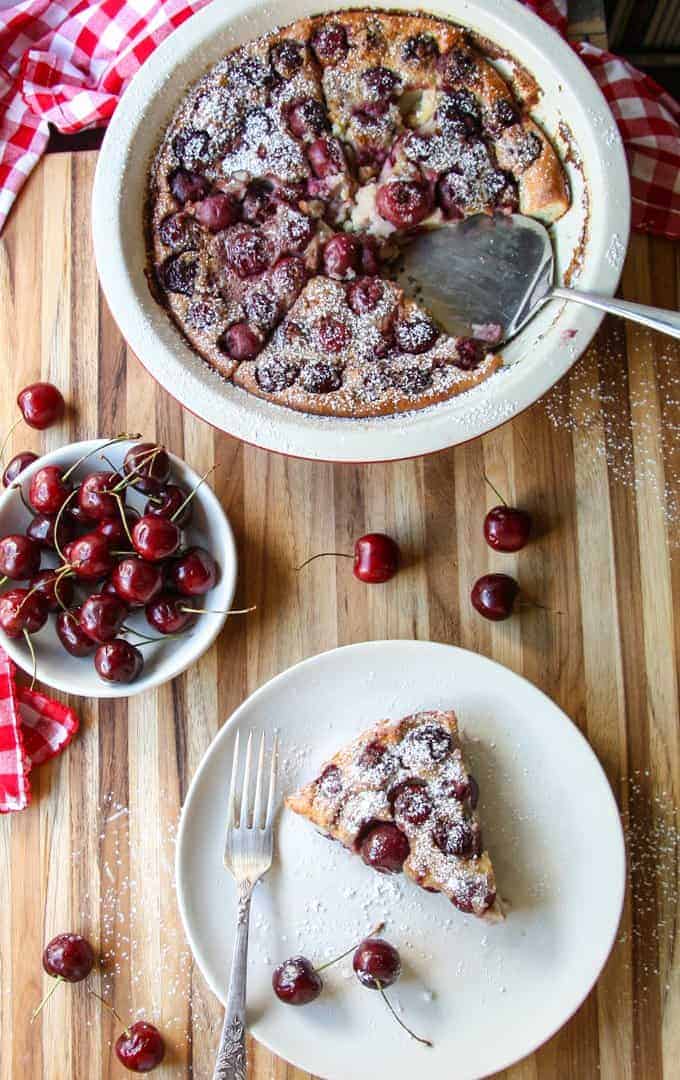 How to Serve Clafoutis
A dusting of powdered sugar is really all that's needed to dress up this impressive dessert. Because cherry clafoutis is all about the cherries, any accompaniments should be pretty plain, in order to let those glorious ruby fruits shine. A scoop of vanilla ice cream or whipping cream are both perfect if you want something extra. And you can drizzle a little cherry liqueur if you want to get really fancy.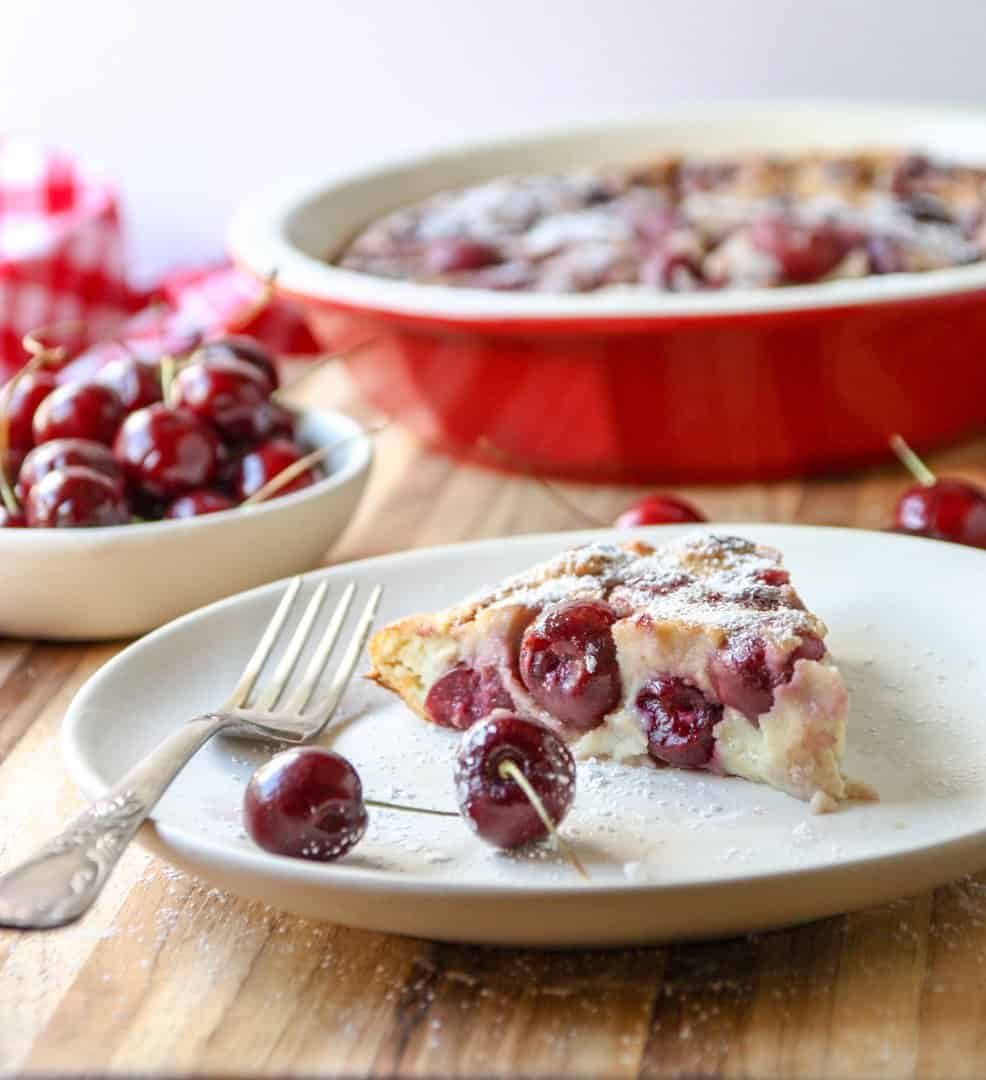 Cherry Almond Clafoutis
Cherry Almond Clafoutis is an elegant and impressive dessert that couldn't be more simple to make. Almond flour makes this recipe gluten-free
Ingredients
3

cups

fresh cherries

pitted & stemmed

2

tbsp

brandy

optional

4

large eggs

1

cup

almond milk

1/2

cup

sugar

1/2

cup

almond flour

2

tbsp

cornstarch

2

tbsp

butter

melted & cooled plus more to grease the pan

1

tsp

vanilla extract

1/2

tsp

cinnamon

1/4

tsp

salt
Instructions
In a bowl combine cherries and brandy & set aside

In a blender, or using an electric mixer combine the eggs, almond milk, sugar, almond flour, cornstarch, butter, vanilla extract, cinnamon and salt. Blend at high speed until smooth.

Arrange cherries on the bottom of the greased baking dish

Pour the batter over the cherries

Bake 60 minutes or until golden and no longer jiggly in the centre. Cracks in the top are normal.

Cool about 10 minutes before slicing, or cool completely.

Dust with powdered sugar before serving.
Notes
This recipe is gluten-free. Almond flour is not only gluten-free, but it also adds a wonderful flavour and texture to this dessert. However, regular all-purpose flour can be used if gluten isn't an issue for you, and you prefer it. You can replace the almond flavour by adding a tsp of almond extract to the batter. 
Almond milk does have a faint almond taste, but any milk, including dairy can be used in place of the almond milk. I would, however, avoid coconut milk, just because the coconut flavour can overpower the cherries.
If you don't have brandy, it's fine to omit it. Or, you can also substitute other spirits, such as rum, or an orange, almond, or cherry liqueur.
Nutrition
Serving:
1
g
Calories:
199
kcal
Carbohydrates:
25
g
Protein:
5
g
Fat:
9
g
Saturated Fat:
3
g
Cholesterol:
89
mg
Sodium:
170
mg
Potassium:
145
mg
Fiber:
2
g
Sugar:
20
g
Vitamin A:
239
IU
Vitamin C:
4
mg
Calcium:
71
mg
Iron:
1
mg
Tried this recipe? What changes did you make?
Let us know how it was!