Grilled Pork Tenderloin is a simple, delicious, and economical summer meal. It's tender, juicy and flavourful with just the right amount of char, and I love that this meal comes together in about 20 minutes.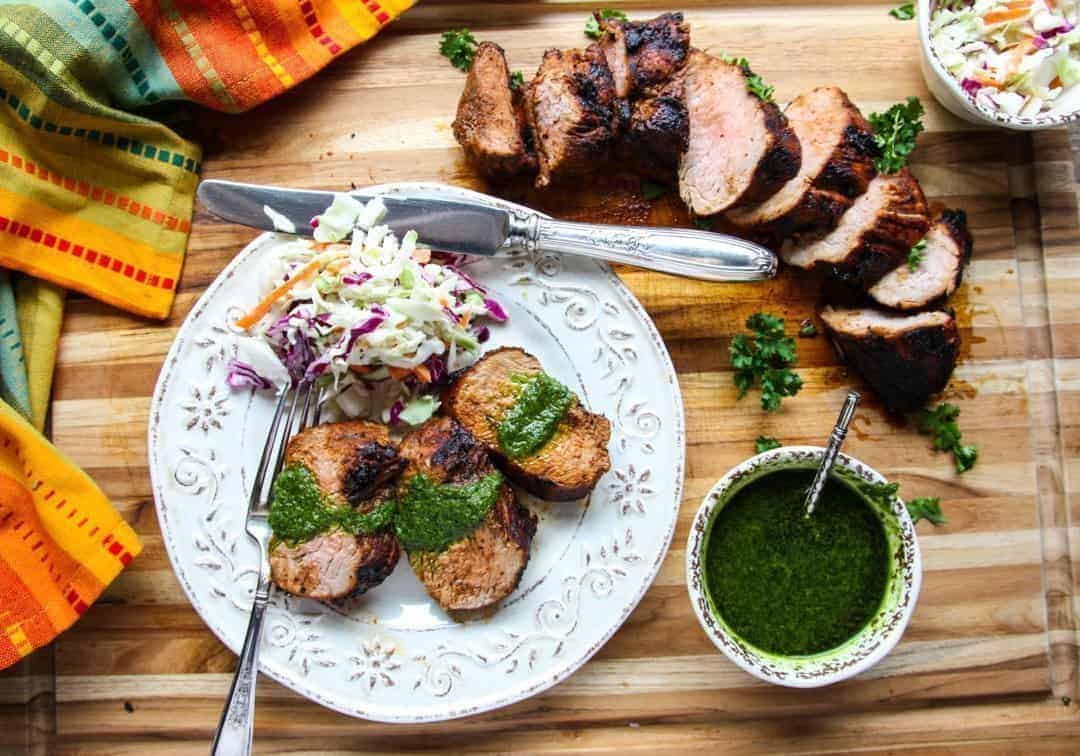 About Pork Tenderloin
The pork tenderloin is a very tender and mild flavoured cut of meat. Like chicken, this lean cut of pork is a great vessel for all kinds of flavours, from sauces to rubs. Grilled pork tenderloin is an economical way to feed a crowd, too, because it usually comes in packages of two. You can always freeze one of them for later if you don't want to cook them both.
What's the Difference Between Pork Loin and Pork Tenderloin?
Pork loin and pork tenderloin are very different pieces of meat. Both are fairly lean, although a pork loin will have a cap of fat. A pork loin is a large cut of meat. You can cut a pork loin into steaks, or have a Sunday roast. It's delicious slow-roasted for pulled pork recipes and a great cut for the oven.
Pork Tenderloin, on the other hand, is a long, skinny cut of meat. Because of its shape, pork tenderloin cooks quickly, so it's ideal for grilling. And, in spite of its leanness, this cut of meat is very tender, as its name implies.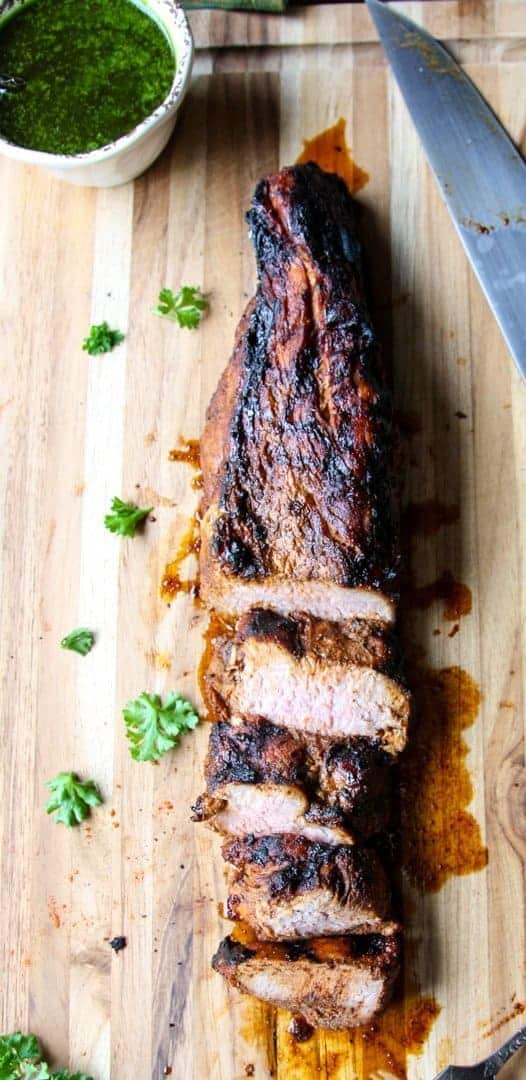 Grilling Pork Tenderloin
Besides being delicious, probably the best part about grilling a pork tenderloin is just how quick and easy this recipe is. I love the sweet and smoky crust from the marinade rub, and how juicy and tender the meat is.
After grilling, you can slice it into medallions, and serve as is. But It's also a perfect cut of meat for tacos or stir-fries.
Cooking Tips
Let the roast sit outside of the fridge for 15-20 minutes before cooking to ensure quicker and more evenly cooked meat.
In 2011, the US Department of Agriculture revised the recommended cooking temperature for pork. The recommended internal temperature is 145° with a three minute resting time. This means the meat may have a little pink, which is perfectly safe and much tastier than overcooked, dried out pork. Read about it here: A Little Pink is OK
Resting time is important for allowing the juices to distribute. If you slice it right off the grill, you will lose all the juices and the meat will be dry. Also, the meat completes its cooking time for those few minutes of rest.
What to Serve With Grilled Pork
We really like to toss together some coleslaw, like this Fennel Cabbage Slaw to serve with grilled pork. And, try drizzling this grilled pork tenderloin, or any, grilled meats with this delicious and super simple Chimichurri Sauce. If you have some parsley in your garden, this sauce is a great use for it. But if you don't, it's worth buying some fresh parsley to make it.
Grilled Pork Tenderloin
Pork Tenderloin is a lean and juicy cut of meat that's perfect for the grill. Ready in 20 minutes.
Ingredients
3

tbsp

brown sugar

2

tbsp

smoked paprika

1

tbsp

chili powder

1

tsp

kosher or coarse salt

1

tsp

freshly ground black pepper

1/4

tsp

red pepper flakes

1/4

cup

olive oil

extra virgin

1 1/2

lb

pork tenderloin
Instructions
Heat grill to high and spray with cooking oil

In a small bowl, whisk together brown sugar, paprika, chili powder, salt, pepper, red pepper, and olive oil to form a paste

Rub spice and oil paste all over the tenderloin to coat.

Grill tenderloin, turning with tongs until all sides are charred. About 2 minutes

Reduce heat to medium, close the lid on the grill, and cook a further 15 minutes, turning halfway through.

When a meat thermometer inserted into the thickest part of the tenderloin reads 145°, remove pork from grill and allow to rest 3 minutes

Slice the tenderloin into medallions, and serve with chimichurri sauce or sauce of your choice.
Notes
Pork tenderloin is very lean, so be sure to spray your hot grill liberally with cooking oil.
Nutrition
Serving:
1
g
Calories:
375
kcal
Carbohydrates:
12
g
Protein:
36
g
Fat:
20
g
Saturated Fat:
4
g
Cholesterol:
111
mg
Sodium:
129
mg
Potassium:
799
mg
Fiber:
2
g
Sugar:
9
g
Vitamin A:
2355
IU
Calcium:
32
mg
Iron:
2.9
mg
Tried this recipe? What changes did you make?
Let us know how it was!