Who doesn't love potato salad? I love the springtime, when we can finally eat food from our garden.
New Potatoes, Chives and Radishes; A Perfect Spring Salad
This potato salad is so easy to make. I love these tiny new potatoes: no peeling is necessary and they have a creamy texture that soaks up the dressing. Radishes, pulled right out of the garden, add a peppery crunch, and the the star of the show, the chive blossom, adds a distinct and subtle flavour and crunch, and that pretty purple colour.
You can toss this potato salad together in no time and it keeps in the fridge for a while, because there's no mayo in it.
Chives, First to Show Up in The Garden
Chives are doing their spring thing in my herb garden, and I love them. Chives, a member of the onion family, are one of the first signs of spring, poking their little bright green stalks up amidst all of the brown and dead looking rubble of a long winter.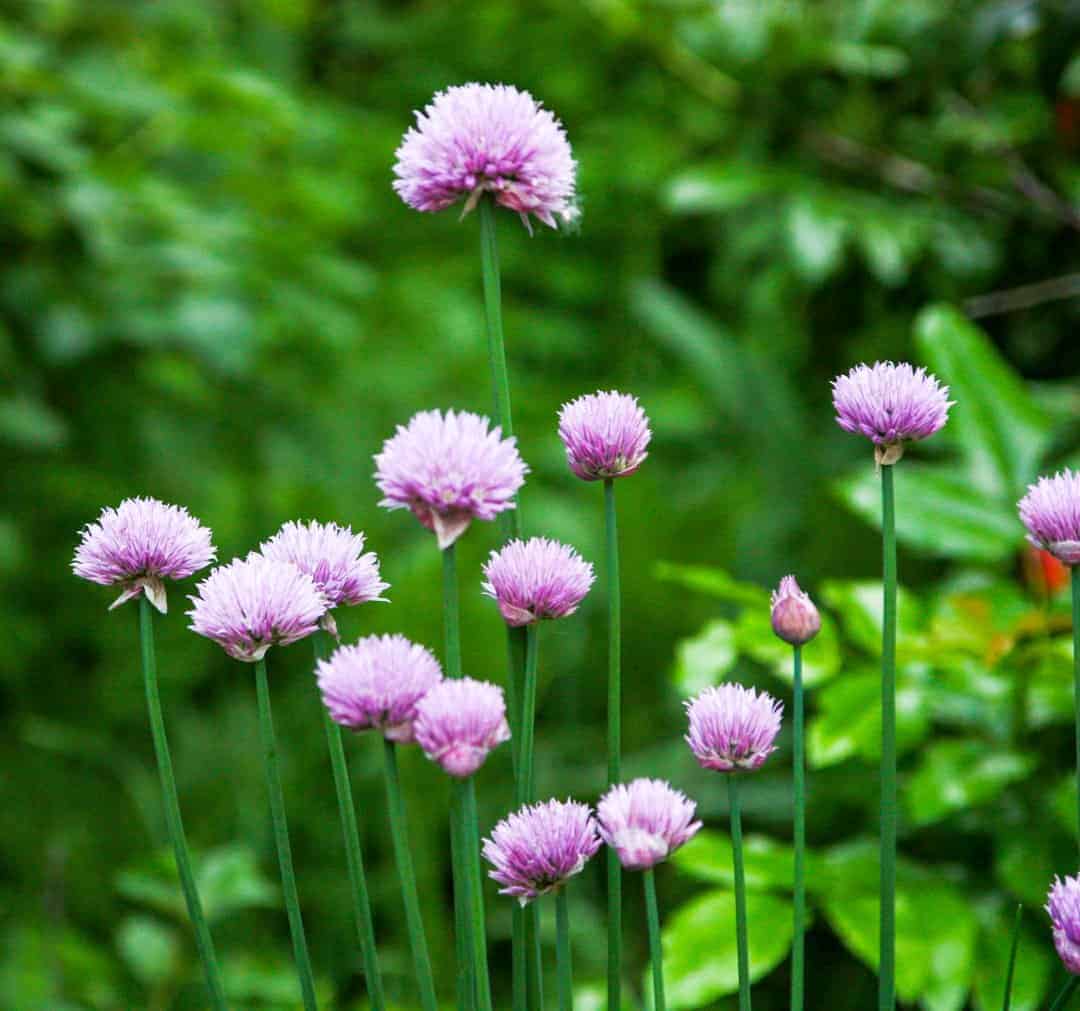 Chive Blossoms are Edible, Too
Did you know that chive blossoms are edible? The chive stalks are lovely harbingers of spring, as well as bringers of flavour to great food. However, when the chives come into flower, the humble chive becomes beautiful. Which, makes the chive an even more valuable member of the herb garden.
I use the lovely, purple blossom balls in lots of ways, because something so pretty should never go to waste. And because those fuzzy little blossoms are a delicious edible flower. Chive blossoms have a subtle, chive flavour and they add interest with their pretty colour and slightly peppery crunch, to any salad.
Chive Blossoms are Good For Bees
Chive Blossoms are good to have in the garden for more than just eating. Although chives repel most insects, bees are attracted to the blossoms because they have a very high amount of nectar. In fact, according to this Wikipedia article: Chives,  chive blossoms are in the top 10 flowers for the most nectar production.  And attracting bees to our garden is important for pollination.
 Chive Blossoms as Decor
And here's a thought. Have you ever thought of putting chives with their blossoms into vases on the table for an outdoor dinner? I love it; it's charming and sweet, and elegant, too, in an organic kinda way.
If you grow them, come the end of the growing season, you'll still have a lot of chives. Here's some info on how to preserve them, as well as other herbs: Preserving Fresh Herbs – 6 Ways For Summer Flavour Year Round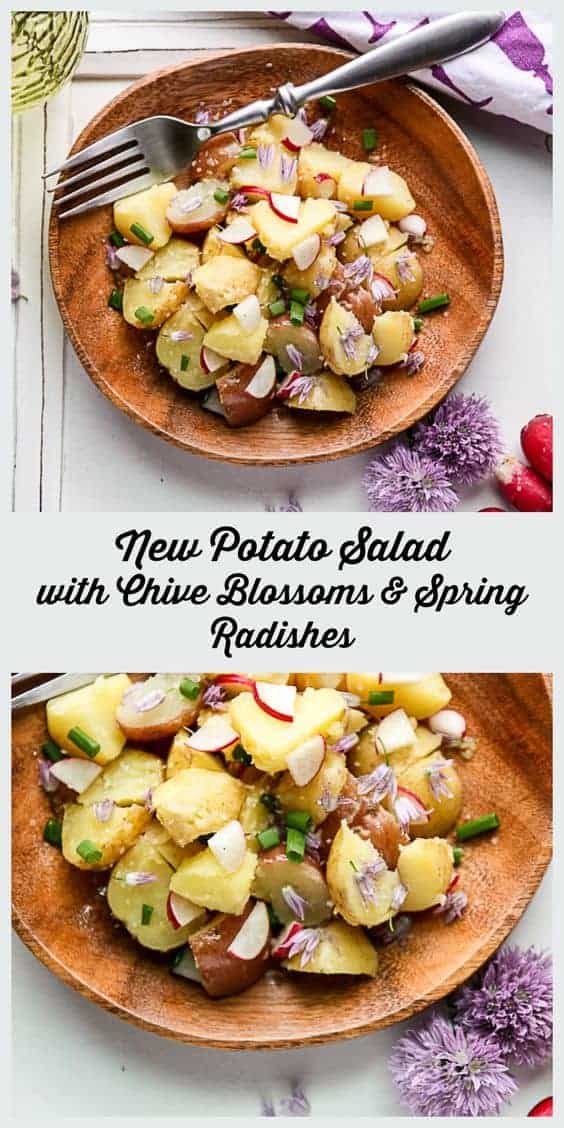 How to Make New Potato Salad with Chive Blossoms & Spring Radishes
New Potato Salad; Chive Blossoms & Spring Radishes
New Potatoes are tender and creamy and the addition of chive blossoms are the essence of spring in this delightful potato salad.
Ingredients
2

lbs

new potatoes or fingerling potatoes

quartered

6-7

radishes

thinly sliced

12

chive blossoms

washed, plucked from stems, and dried with paper towel

1/4

cup

chive stalks

chopped

1/4

cup

extra virgin olive oil

2

tbsp

Dijon mustard

Kosher salt

to taste
Instructions
Put olive oil and Dijon mustard into a jar with a lid and shake hard until combined.

Put potatoes in a large pot in very well salted water and boil until just fork tender, don't overcook.

Drain potatoes in a colander, then return to the pot and put on the still warm burner, shaking them around to remove the moisture.

Remove from heat and allow potatoes to cool a little.

Toss potatoes with radishes, chives, and chive blossoms and olive oil/ Dijon dressing.

Taste and add kosher salt.

Refrigerate for at least an hour to let all those simple flavours meld together.
Nutrition Facts
New Potato Salad; Chive Blossoms & Spring Radishes
Amount Per Serving (1 serving)
Calories 300
Calories from Fat 126
% Daily Value*
Fat 14g22%
Sodium 101mg4%
Potassium 979mg28%
Carbohydrates 40g13%
Protein 5g10%
Vitamin A 110IU2%
Vitamin C 47mg57%
Calcium 32mg3%
Iron 2mg11%
* Percent Daily Values are based on a 2000 calorie diet.