Preserving Fresh Herbs is a priority for me every fall. Fresh herbs are such a joy for cooks (and eaters). I'm always excited to see the first spring shoots, usually chives and parsley, showing their heads in the herb garden.
By midsummer the herb garden is flourishing with them as well as basil, rosemary, thyme, cilantro, dill, sage, mint, lavender and oregano. Everything coming from my kitchen includes them. I'm grateful every day for this amazing bounty. It's always a sad time for me in late fall when it's time to put the herb garden to bed for the winter.
Why Fresh Herbs?
Fresh herbs take any dish to the next level. For me, as a cook, they are essential. But the winter months in Canada make using them a challenge. If you have a sunny enough window, you can grow some herbs indoors, even though they do struggle with the short days. Or you can buy expensive imported ones at the grocery store.
Nutrition of Fresh Herbs
Herbs are not just a culinary delight. These fragrant green beauties are also good for our health. Read more about the health benefits of herbs: Health Benefits of Herbs.
Preserving Fresh Herbs is Worth It
My own solution has been to preserve as much as I can while the season is in full swing so that I can keep using my own organic home-grown herbs all year long. There are a few ways to do this. I'm also including a couple of garden beauties that aren't really herbs, but since we are talking about preserving, garlic and chili peppers are included here. And, even if you don't have a garden, you can get fresh herbs at your local farmers market and preserve them. It's more than worth it for having that fresh flavour in mid winter. There are several ways for preserving fresh herbs that are easy and I'm sharing them below.
 Freezing Herbs
Freezing works well for Basil, Mint, Oregano, Cilantro, Parsley, or any soft herb. It's important to blanch first so that the herb will keep its beautiful green colour when thawed. Bring a large pot of water to a boil, and fill a large bowl with ice water. Using tongs, plunge the herb into the boiling water for a couple of seconds, just until it wilts. Remove and plunge into the ice water.
For basil, strip the leaves from the stems and stack groups of them as though you were going to chiffonade them, rolling the stacks up into little cigars. Put the cigars on a parchment lined tray and put into the freezer for an hour or so, then store in a labeled freezer bag in the freezer. You can easily crumble them when frozen if you don't want the whole leaves in your recipe.
For other soft herbs with smaller leaves, try stuffing them into ice-cube trays with a little olive oil. Once frozen, they can go into a freezer bag.  I like to just pop one or two of those little herbal cigars or cubes right into my sauces and other dishes straight out of the freezer.
Herb vinegar
Herb vinegar preserves the beautiful fresh flavour and aroma of your garden herbs in a vinegar that is delicious on salads, and lots of other recipes. It's really simple, too. Throughout  the growing season, I pinch off the flowers to keep my plants producing leaves. Then I put the flowers in a jar and cover with white vinegar. Every time I pinch off more flowers, I add them along with more vinegar, to the jar. Let it just sit there, steeping, until fall, and then strain out the flowers. You'll have a fantastic herb vinegar, which you can use in  vinaigrette, sauces, and marinades. This works especially well with basil, oregano, and chive blossoms.
Herb Oils
Herb Oils are wonderful for marinating, cooking oil, and salads. A little bit drizzed on top of soup or hummus is delicious. And as a dip for crusty bread, yes please. Herb oils are really simple to do.
Just make sure your herbs of choice are clean and completely dry. Bruise them slightly to release their oil. Put into a jar or bottle with an airtight seal, and cover with olive, grape seed, peanut, or any oil that you like. Seal and leave in a cool, dark place for a couple of weeks. Taste, and if your oil has the flavour you like, strain out the herbs.
Use cilantro in peanut oil for Thai or Asian dishes, and basil, oregano and garlic in extra virgin olive oil for your Italian recipes. The oil should be used in a month or so, but these can also be made into decorative, non edible gifts. Find pretty bottles and leave the herbs in. Rosemary looks beautiful as do whole chili peppers.
Dried Herbs
Dried Herbs are never as flavourful as fresh ones, but drying your own herbs is so much better than buying them in the spice section of the grocery store. We don't know how old those little jars of herb powder, are, where they come from, or how they're processed.
Good herbs for drying are  sage, rosemary, lavender & thyme.  I also like to dry some chili peppers, and I hang my garlic to cure along with them. You can also dry garlic in a dehydrater for super concentrated and convenient flavour for the spice drawer. Once dried, chili peppers can be easily crumbled into flakes, then stored in an airtight jar.
Herbs should be dried in well ventilated area, preferably hung so that the air can circulate around them. Once the herbs have dried, store in air tight jars or plastic bags. Dried herbs can be used in the usual ways, adding to soups, stews, etc.
Herb Salts and Sugars
Herb Salts and Sugars are so super easy. They make lovely gifts, and herb salts and sugars are more than culinary. Lavender salt added to a bath smells amazing, and also works as a great exfoliating scrub. Lavender sugar can be used in baking and stirred into coffee or tea.
Try using lavender in a recipe, like these ones for lavender scones, or lavender yogurt cake.  Besides lavender, you can make an herbal salt mix with dried thyme and rosemary. Use in place of plain salt on roast meat, chicken, or vegetables for a burst of fresh herb flavour. Dried chilli pepper plus coriander seed salt makes a great rub, or marinade, too. Crush the coriander seed with a mortal and pestle first.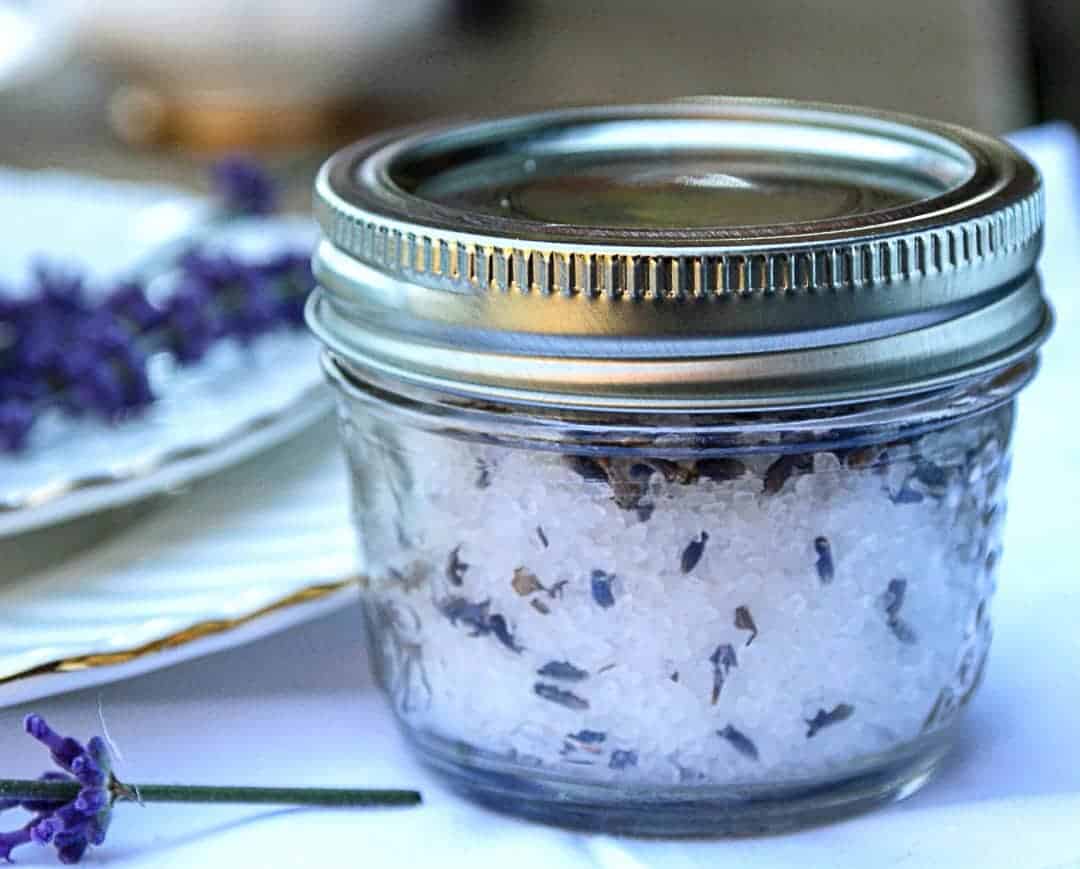 Herb Butters
I love having herb butters in the freezer. Finely chop and combine with room temperature butter. You can also add garlic and or lemon zest. Chill the herb butter in the fridge until solid, then use a melon baller to scoop onto a parchment lined tray. Put in the freezer for an hour, then store in a labelled freezer bag.
Use herb butters over the winter to spread on fresh bread, finish sauces, melt on pasta, vegetables, or potatoes. Dill butter is wonderful with fish, chive butter with potatoes, and sage butter is my favourite as a rub for roast chicken or turkey.
Spring will be here before you know it, and while you wait, you can keep fresh summery flavours in your dishes using any or all of these methods for preserving fresh herbs.