Just to be clear, there is no pumpkin in these Pumpkin Deviled Eggs. Because that would just be taking the whole pumpkin thing too far, would it not? (Hmm, or would it?)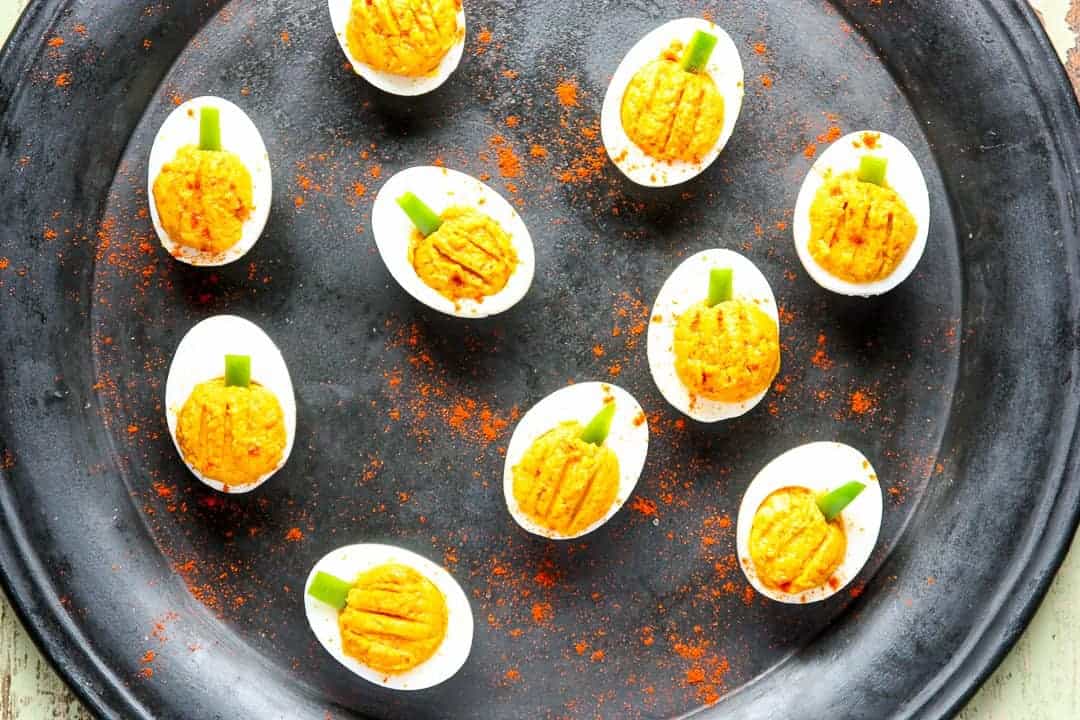 Savoury Halloween Treats
The pumpkin in the name is because these eggs resemble little pumpkins, making them perfect for a Thanksgiving appetizer or a Halloween party. I know that Halloween is often all about candy, treats, and sweets. But it's nice to have a little bit of savoury for balance. And savoury treats can be just as festive. Even though the name, "deviled eggs" sounds just perfect for Halloween, there's a cool history to this popular treat. Check it out, because the evolution of the deviled egg is really quite fascinating: The Ancient History of Deviled Eggs
Easy Halloween Deviled Eggs
The other great thing about these cute little pumpkin deviled eggs is that they are so easy to make. I don't have a ton of patience for fiddling with food that's just gets eaten, anyways. I usually just aim to make sure it looks appetizing. Although I do admire those who do and always appreciate the effort. I've seen some amazingly creative things done to food for a Halloween party, and it's so much fun. People have made spider webs, eyeballs, little ghosts, witches hats, and all kinds of Halloween themed things out of food.
Spicy or Not, Deviled Eggs
As fun as that all is, I'm happy that these eggs took so little effort because they disappeared fast. I mixed the egg yolks with sriracha and smoked paprika as well as mayonnaise to get the orange colour. And I also made a separate batch omitting the sriracha and using extra paprika. Not everyone is a fan of spicy, especially kids, so everyone was happy. The amount of sriracha is pretty small, so there's very little heat anyways, and you can add extra if you want them to pack a little more punch.
I used a melon baller to scoop the yolks back into the whites to give the pumpkins their rounded shapes. A little strip of green pepper makes a perfect pumpkin stem, and it adds a nice little crunch, too. These little deviled pumpkin eggs are a yummy way to make sure there's some nutritious protein amidst all the sugary treats for any spooky festivities.
Want more appetizer ideas? Try Cajun Turkey Meatballs or Pear Gorgonzola Bites.
Pumpkin Halloween Deviled Eggs
Cute and tasty deviled eggs that look like little pumpkins. An easy to make treat that's perfect for Halloween or Thanksgiving.
Ingredients
12

fresh eggs

1/4

cup

mayonnaise

2

tbsp

Sriracha sauce

1

tbsp

smoked paprika

1

tsp

salt

1//2

small green pepper

cut into 1/2 inch x 1/2 inch strips
Instructions
Bring a large pot of water to a boil

Lower eggs into boiling water, and allow to boil for 10 minutes

Remove pot from heat, and drain hot water, while adding cold water to the pot.

When water is cold, allow eggs to cool

Peel cooled eggs, and slice in half lengthwise

With a small spoon, scoop yolks from eggs into a bowl, setting halved whites aside

To the yolks, add, mayonnaise, sriracha, paprika, and salt

Use a pastry blender, potato masher, or a large fork to mix yolk mixture into a smooth, creamy paste

Use a melon baller, or teaspoon to scoop yolk mixture into reserved cooked egg whites.

On the top of each deviled egg, place a strip of green pepper for the stem

With the tines of a fork, draw lines through yolks to resemble pumpkins

Garnish with more paprika, if desired
Nutrition
Serving:
1
g
Calories:
48
kcal
Protein:
2
g
Fat:
3
g
Cholesterol:
82
mg
Sodium:
171
mg
Potassium:
38
mg
Vitamin A:
260
IU
Vitamin C:
0.8
mg
Calcium:
13
mg
Iron:
0.5
mg
Tried this recipe? What changes did you make?
Let us know how it was!