Spiced Lemon Roasted Chickpeas are a crunchy, salty snack that's also good for you.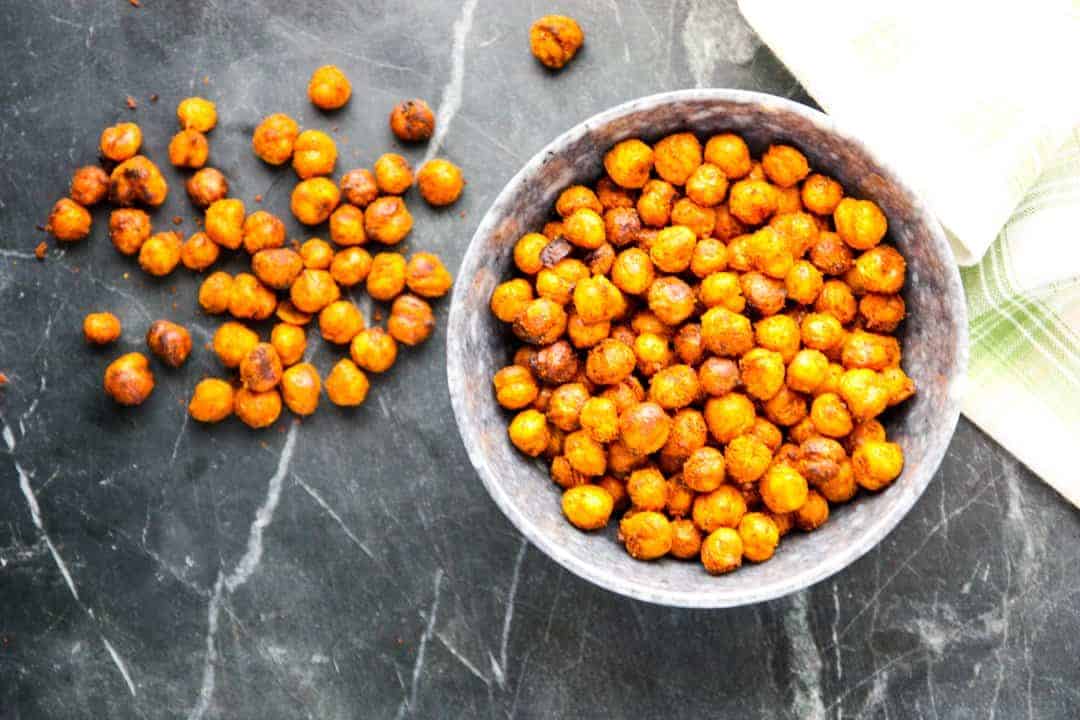 The Versatile Chickpea
Chickpeas are a pantry staple for me. This versatile legume is great for soups, stews, curries, (like this Sweet Potato Chickpea Curry), salads, ( like this Sweet potato Quinoa Chickpea Salad) and of course, hummus ( Roasted Beet Hummus, or Pumpkin Hummus) Chickpeas, also called garbanzo beans, are used in cuisines all over the world, but especially in India, the Middle East, and the Mediterranean.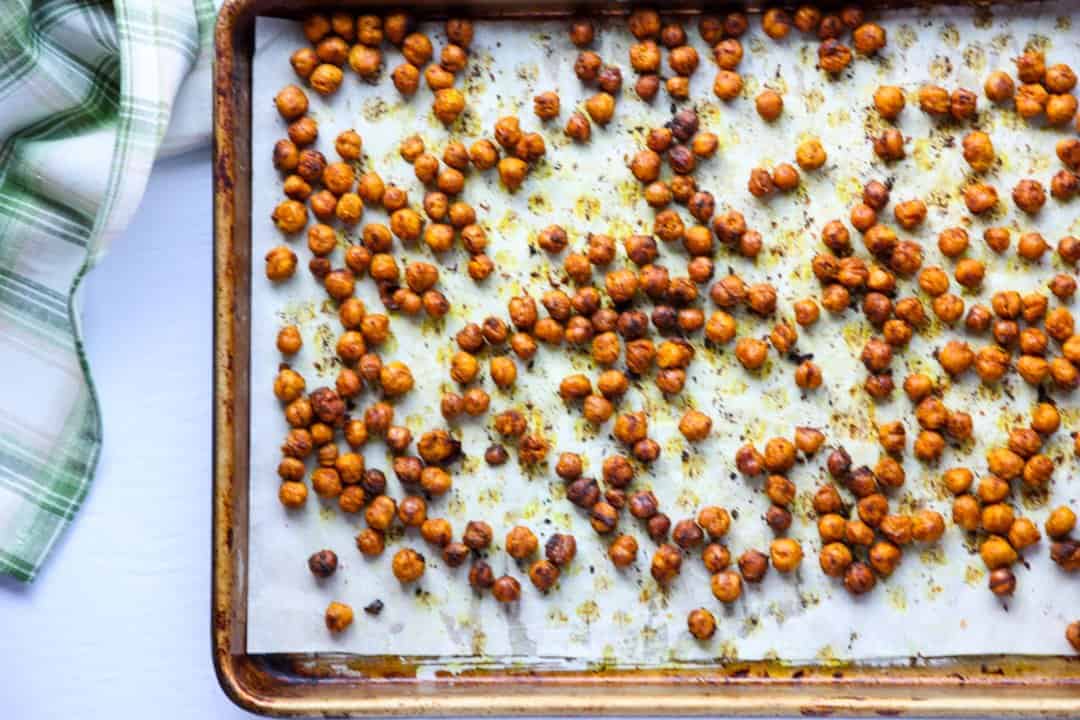 Chickpea Nutrition
Roasted chickpeas are one of those snacks that make it hard to stop munching. This is totally OK because they're so are low in fat and calories. And they are high in fibre, protein, and important vitamins and minerals. Especially, iron, phosphate, calcium, and magnesium. Chickpeas are nutrition superstars. Here's some more thorough info: The Benefits of Chickpeas. So you can skip the chips and feel good about cozying up with a bowl of roasted chickpeas for your next movie night.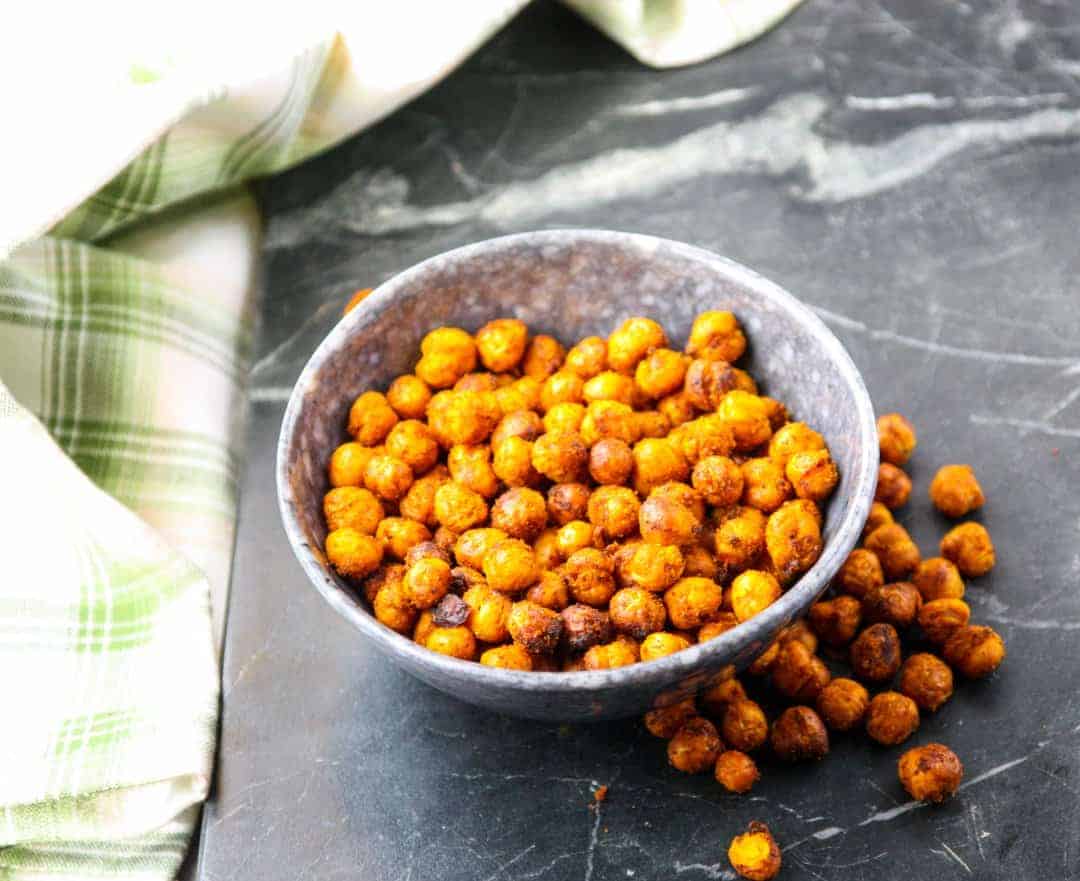 Roasted chickpeas have a satisfying crunch, which makes them perfect as a gluten-free crouton for topping salads and creamy soups. They are also perfect for putting out as a cocktail snack for gatherings, or a tasty addition to a cheeseboard.
Canned vs Dried Chickpeas
I'm using canned chickpeas for this recipe because it's just easy. And there is no nutritional difference between canned and dried chickpeas. So having some cans in the pantry means there's always a good source of plant-based protein for any recipe.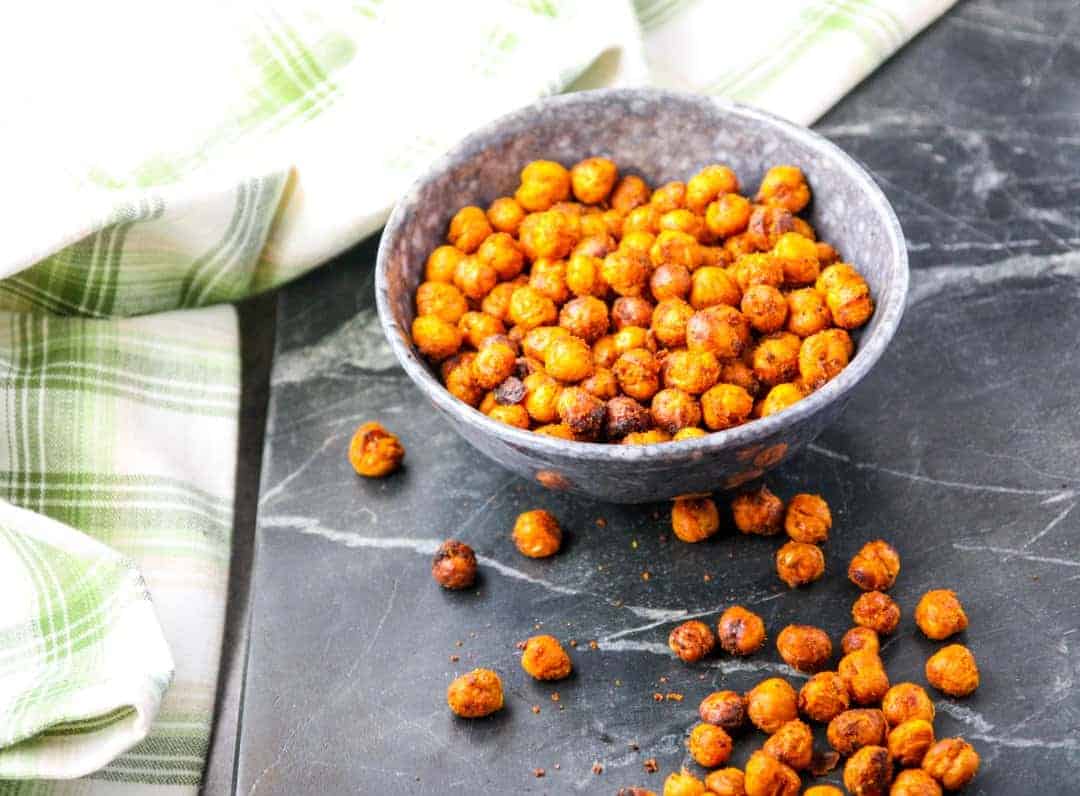 Lemon Roasted Chickpeas Are Easy To Make
The best thing about these lemon roasted chickpeas is how easy they are to make. Just toss them in a small bit of oil and salt, then roast them in the oven until they get golden and crunchy. Then you can toss them again with whatever spices you like. This recipe is easily doubled, which I recommend since they won't last long.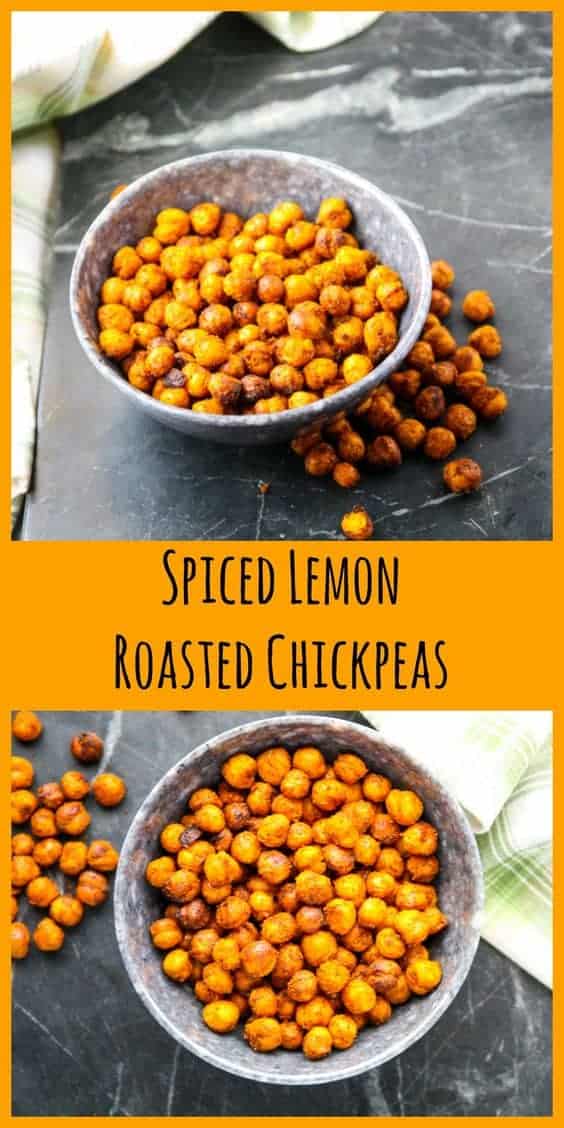 How to Make Spiced Lemon Roasted Chickpeas
Spiced Lemon Roasted Chickpeas
Toss some chickpeas in spices, lemon juice, and a little oil, then roast them in the oven for a crunchy, delicious and healthy snack.
Keyword:
garbanzo beans, healthy snacks
Ingredients
12

oz

chickpeas (1 can)

drained & rinsed

2

tbsp

olive oil

1/2

tsp

salt

1

tsp

lemon zest

2

tsp

lemon juice

1

tsp

garlic powder

1

tsp

turmeric powder

1

tsp

paprika
Instructions
Line a baking sheet with parchment paper

Blot chickpeas dry with paper towels. The goal is to remove as much moisture as possible.

In a bowl, toss chickpeas with olive oil and salt

Spread chickpeas in a single layer on the prepared baking sheet

Bake in center of the oven for 30 minutes, shaking the pan every ten minutes

In a bowl, whisk together the lemon zest, garlic powder, turmeric powder, and paprika. Whisk in lemon juice to form a paste.

Remove chickpeas from the oven, transfer them to the bowl with the spice paste, and toss. Return to the baking sheet and put back in the oven for 5 minutes

Remove from oven and allow chickpeas to cool
Nutrition Facts
Spiced Lemon Roasted Chickpeas
Amount Per Serving (2 tbsp)
Calories 34
Calories from Fat 9
% Daily Value*
Fat 1g2%
Sodium 49mg2%
Potassium 47mg1%
Carbohydrates 4g1%
Protein 1g2%
Vitamin A 50IU1%
Vitamin C 0.4mg0%
Calcium 7mg1%
Iron 0.5mg3%
* Percent Daily Values are based on a 2000 calorie diet.