Mussels Thai Style is delectable Canadian mussels, cooked in a flavourful Thai style broth. It's a super easy dish and makes a great meal by itself, or a delicious starter.
About Thai Cooking
Thai cuisine is one of the world's most flavourful and distinct. I've always been a huge fan, and a recent visit to Thailand has me hungering for more. We were able to take a Thai cooking class while there, and we learned that almost all Thai dishes have 4 balanced elements. Those are: salty, sour, sweet, and spicy. The typical ingredients for that balance are:
salty – fish sauce, soy sauce
sour – rice vinegar, lemon, or lime juice. (if adding the sour aspect while cooking, use the vinegar, and use lemon or lime for a finished dish)
sweet – typically palm or coconut sugar
spicy – chilies or chile paste
In addition, Thai cooks also use ginger, kaffir lime leaves, coconut milk, lemongrass, peanuts, and garlic for many of their dishes. Also, galangal, which looks similar to ginger, but has a very different taste, is a key ingredient that gives Thai dishes that distinct flavour. Here's more info on galangal: Ginger vs Galangal
About Mussels
I'm cooking with Blue Mussels here, which are the most common mussels for eating. Mussels are a bivalve, with a hinged shell. They grow along northern coastal regions on rocky shores, by attaching themselves to rocks, using a muscular foot. They are also cultivated in many northern hemisphere countries. Mussels are delicious and super easy to cook. Also, they are pretty economical in comparison to other seafood.
Choose Sustainable Seafood
When buying any seafood, be sure to look for the Ocean Wise® label to ensure that your choice is sustaining the health of our oceans. You can download their February 2019 Master Seafood List as an excellent guide to what is recommended for ocean sustainability and what is not. Check out these other sustainable seafood recipes, too: Spanish Fish Stew, Pan Seared Scallops in Chardonnay Butter Sauce, or Cajun Crab Cakes.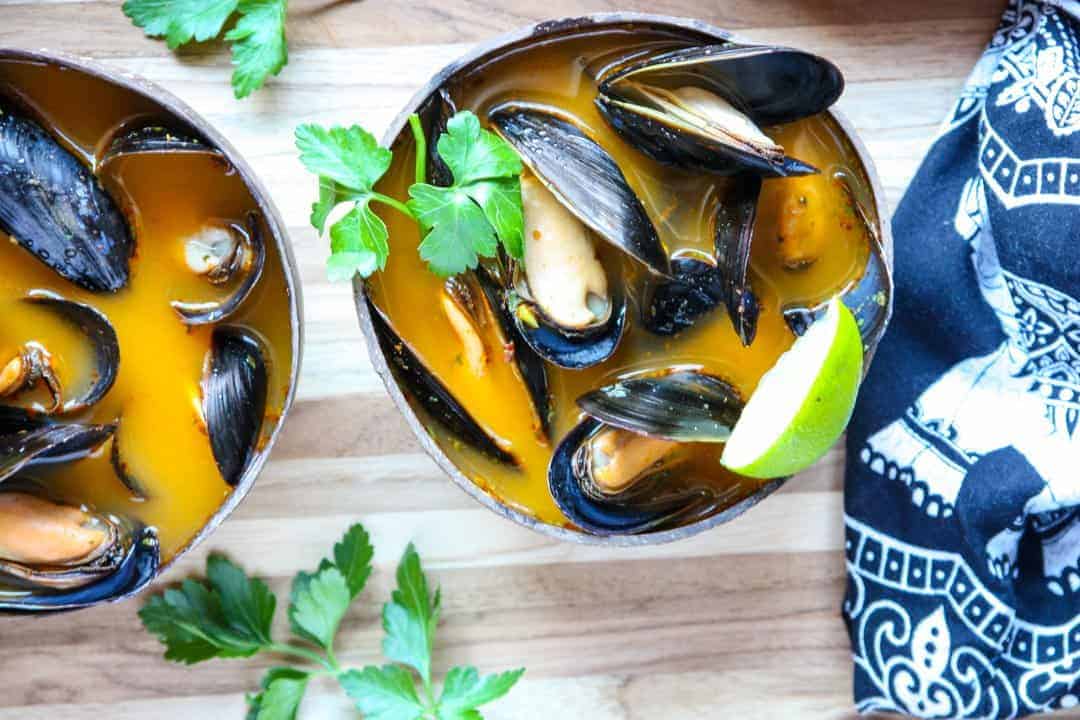 About These Mussels Thai Style
What I love about this dish, first, is how simple it is! Just some stock, simmered with Thai flavours, and fresh, local mussels. Second, It has all of the flavour elements of a delicious Thai dish. Finally, it's delicious and nutritious.
Mussel nutrition
Mussels are very nutritious. They are an excellent source of iron and Vitamin B12 (higher than beef) and a good source of zinc. In addition, they are also high in protein, heart-healthy unsaturated fats, and low in calories.
Make Sure Your Mussels are Fresh
Fresh mussels have a clean, fresh ocean smell, and won't smell fishy. If any of your mussels are open before cooking, tap the shell with a spoon. The shell should close, but if not, discard. Give your mussels a good rinse before cooking. After cooking, discard any mussels that don't open after 5 minutes.
If you love Thai food, you might also want to check out Thai Red Curry Chicken Soup, or Thai Peach Chicken.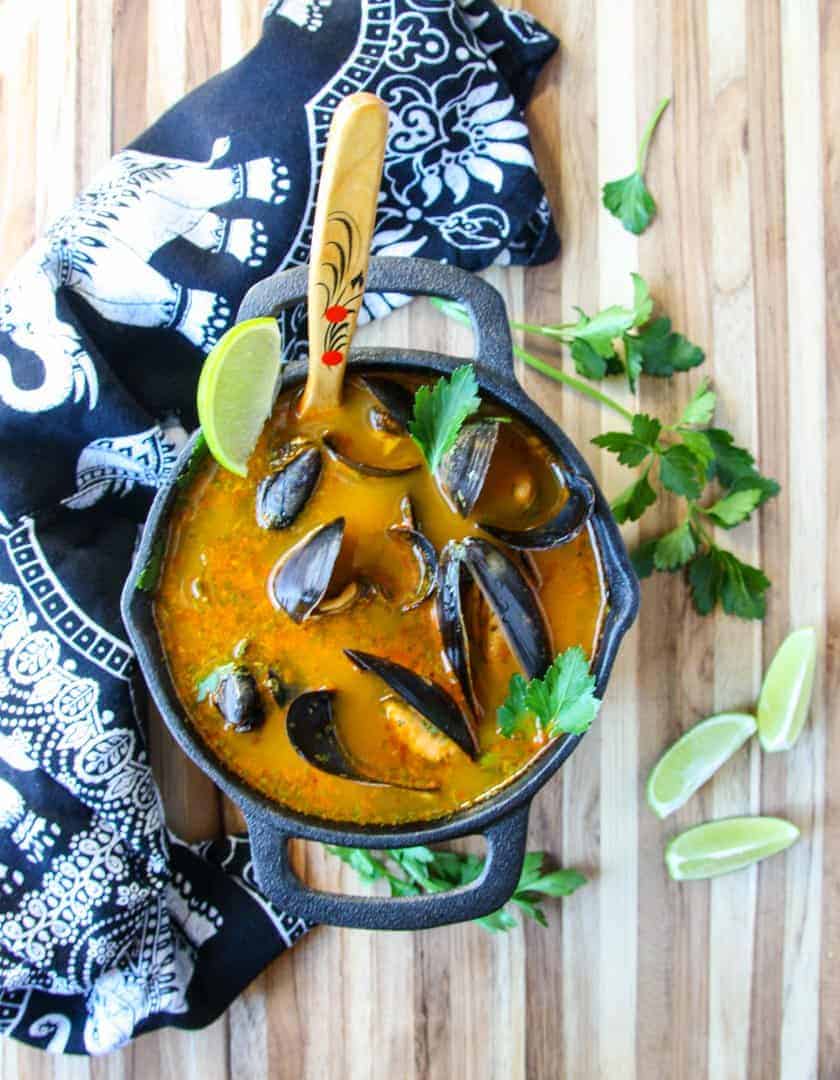 Mussels Thai Style
Fresh Mussels in a flavourful, Thai seasoned broth make a super quick and delicious meal with rice or noodles, or a perfect starter.
Instructions
In a large saucepan over medium heat, combine stock, curry paste, ginger, garlic, fish sauce, and sugar. Bring to a boil.

Add mussels to the pot, cover, and cook until mussels are open, about 5 minutes.

Remove from heat, sprinkle with cilantro and serve with lime wedges
Notes
Mussels, (and most shellfish) are fairly high in sodium, so be sure to use a low sodium or no salt added stock.
Chicken or fish stock can be substituted for vegetable stock.
Plenty of lime juice really makes this dish extra flavourful, so serve with lots of wedges.
Most Thai curry pastes are gluten-free, but if it is a concern, be sure to check the label before buying.
Brown sugar can be substituted for the coconut sugar.
Nutrition
Serving:
1
g
Calories:
257
kcal
Carbohydrates:
27
g
Protein:
25
g
Fat:
7
g
Saturated Fat:
2
g
Cholesterol:
32
mg
Sodium:
1901
mg
Potassium:
925
mg
Fiber:
2
g
Sugar:
8
g
Vitamin A:
3790
IU
Vitamin C:
31.6
mg
Calcium:
116
mg
Iron:
6.7
mg
Tried this recipe? What changes did you make?
Let us know how it was!