Rhubarb Jam is a yearly springtime celebration, whether it grows in your own garden or it starts to show up at farmer's markets and produce stores. Rhubarb is one of the very first edibles to show up in the garden after a long winter.
Don't Eat Rhubarb Leaves
Rhubarb is a perennial garden dweller, and we look forward to its appearance each spring. But, did you know, that the rhubarb leaves, themselves, are poisonous? They contain high levels of a toxic compound called oxalic acid. So, although those leaves may look temptingly like beet tops or Swiss chard, please refrain from eating them.
More About Rhubarb
Did you know Rhubarb is not really a fruit, but actually a vegetable? Like many produce items, how we use them determines whether we think of them as veggies, or as fruits. For more facts about rhubarb, check out Four Things You Didn't Know About Rhubarb
Keep Rhubarb in the Freezer To Enjoy all Year
A couple of posts ago, I made strawberry rhubarb muffins. I've been wanting to use rhubarb again while it's still in season and growing like crazy. But, rhubarb is easy to freeze. Just cut the stalks into 2-inch pieces. Spread the pieces on a parchment-lined baking sheet and freeze until firm. Then transfer to airtight containers and freeze for up to a year. So if you have a surplus, or just want a winter treat, you can still make this rhubarb jam any time of year. Or even these delicious Rhubarb Blueberry Oatmeal Bars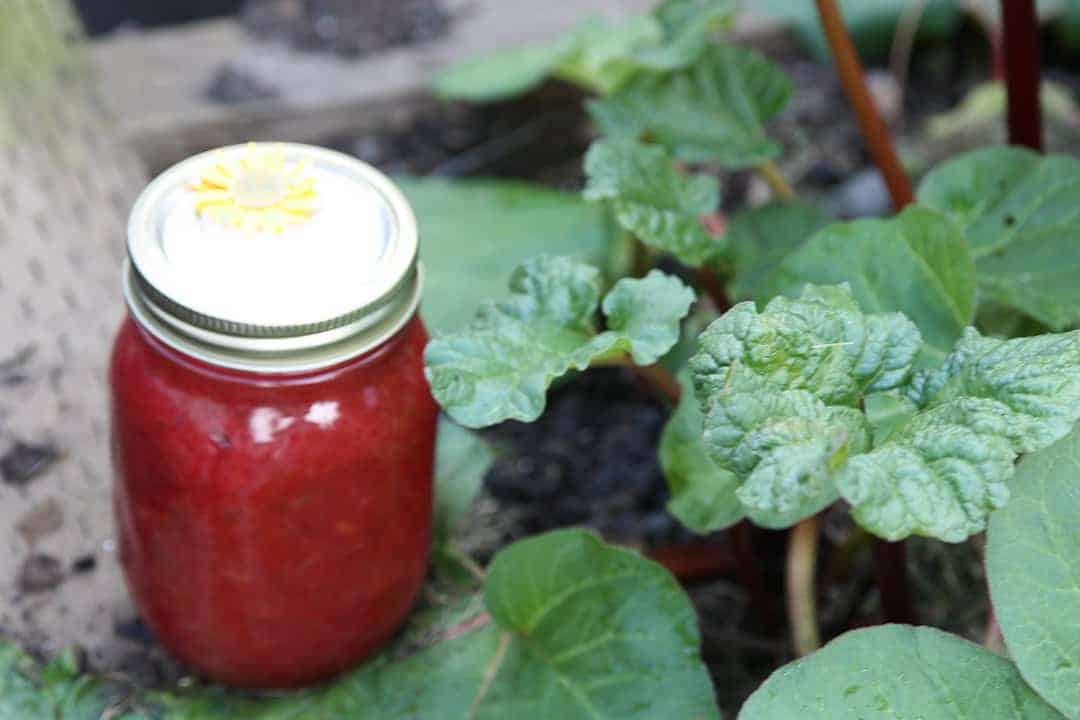 Ingredients: Just Sugar & Rhubarb
This is a super simple recipe. There's no pectin, and there's just enough sugar to let that rhubarb's bright tartness shine. The end result is also versatile. You can use this rhubarb jam on toast or scones, but also with pork, salmon, or with crackers and a sharp spreadable cheese for entertaining. I love it on waffles with strawberries, and you can layer it with custard and nuts for a sublime spring desert. (Recipe coming soon)
To get the prettiest colour for your jam, try to use only the pink and bright red stalks. The green stalks taste just as good, but the colour will be a little muddy.
Rhubarb Jam – Rhubarb Jam Recipe
Celebrate spring with a simple, fresh rhubarb jam with only two ingredients.
Ingredients
2 1/2

pounds

rhubarb stalks

chopped, about 8 cups

1 1/2

cups

sugar
Instructions
Put chopped rhubarb and sugar in a glass or stainless steel bowl, stir and allow to sit until the sugar is dissolved and there is lots of juice. This can be overnight in the fridge or several hours on the countertop.

Put into a stainless steel pot (other pots such as cast iron, enamel, copper, or aluminum will react with the ingredients and discolour the jam) over medium high heat and bring to a boil, stirring occasionally.

 Reduce heat to medium-low and continue to cook, stirring occasionally, until the mixture thickens and the rhubarb has broken down, about 30 minutes. 

Let cool, and transfer into jars.

Rhubarb Jam will keep in the fridge for around three weeks. I didn't process this recipe, but it could be done on a large scale if you have a ton of rhubarb.
Notes
This recipe makes four 250ml (8 oz) If you won't be using up the jam within a month, or want to make a larger amount, process the filled jars with lids and screw banks in a boiling water bath for ten minutes. Allow to cool and ensure that each jar is sealed before storing in a cool dry place. Sealed jars can be stored for up to a year.
Rhubarb jam can also be frozen. 
Nutrition
Serving:
2
tbsp
Calories:
21
kcal
Carbohydrates:
5
g
Potassium:
51
mg
Sugar:
4
g
Vitamin A:
20
IU
Vitamin C:
1.4
mg
Calcium:
15
mg
Tried this recipe? What changes did you make?
Let us know how it was!