Vegan Pho is a quick and easy way to enjoy a big bowl of delicious steamy soup. It's packed full of veggies and loaded with flavour. And best of all, it takes just 30 minutes to make.
What is Pho?
Pho is a Vietnamese soup. It's typically a beef soup, with a base of bone broth, where beef bones are simmered for many hours. Cinnamon, cloves, and star anise are a big part of the flavour profile for the pho broth. As are garlic, ginger and spicy chiles.
Obviously, a vegan pho is not authentic, but it's delicious, all the same. Rice noodles are always included in a bowl of pho, but there are endless other options for ingredients in this delicious vegan pho soup.
How to Pronounce Pho
People often mispronounce the name of this delicious soup when they read it on a recipe or a menu in a restaurant. It seems natural for us who speak English to pronounce is as FOH. However, the correct pronunciation is FUH. Try saying it that way, the next time you order this soup in a Vietnamese restaurant, and you will be rewarded with a knowing smile.
How Pho is Made
The delicious thing about pho is that, while bone broth cooks forever, the soup ingredients are subject to minimal cooking. When serving pho, you pour the hot, bubbling broth over the ingredients. The cooking happens in the individual bowls of soup via the hot broth. The hot broth cooks the ingredients a little, but they still retain their freshness.
Why Vegan Pho?
Pho just lends itself to an amazing vegan soup. I used reconstituted dried shiitake mushrooms in this soup, along with some diced tofu and I loved the umami flavour that they gave. There is a "meatiness" with some ingredients, and these are up there with the best.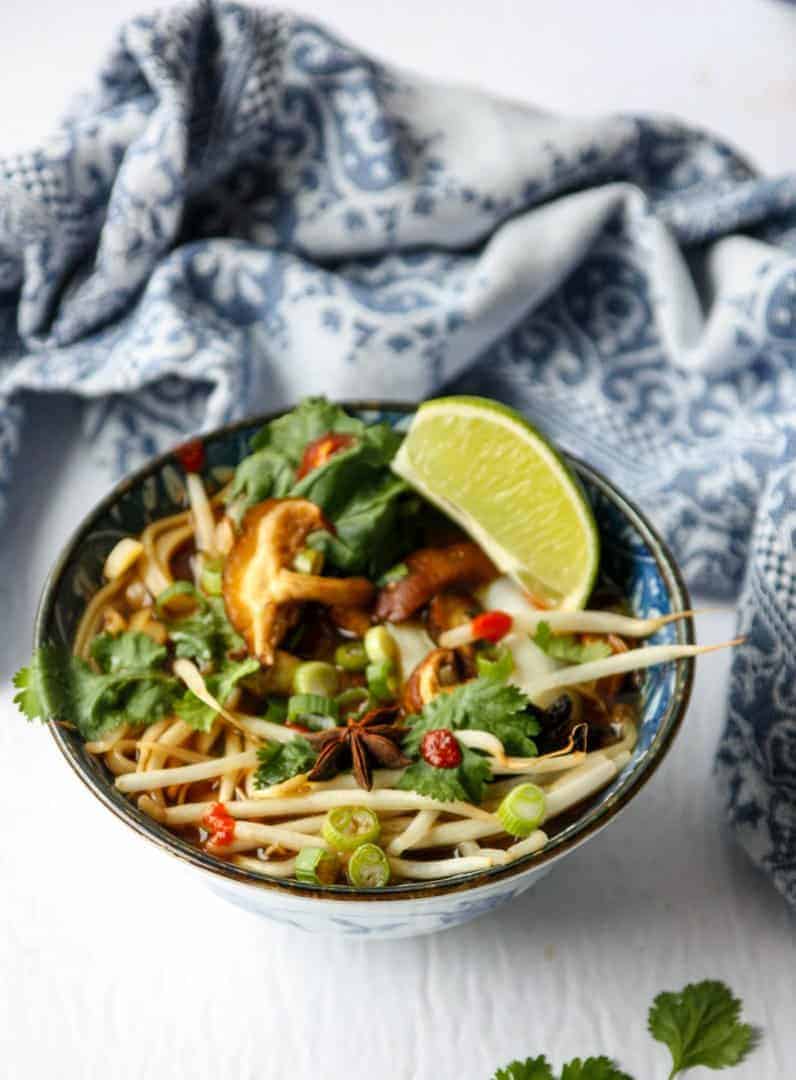 What is Umami?
Umani is a taste group, along with sweet, sour, salty, and bitter. In Japanese, umami means "pleasant savory taste". Foods that have the amino acid, glutamate, are high in umami flavour. Besides the mushrooms and tofu mentioned above, aged cheeses, tomatoes, fish sauce, soy sauce, and ketchup are umami flavours. Umani is a "meaty" taste, so meats and seafood are typically high in umami. Learn more about the "fifth flavour" here: What is Umami?
How to Eat Pho
In Vietnam, Pho is breakfast food. People buy their bowls of Pho in the morning on the way to work and school, and eat them from street stalls. You should always use chopsticks when eating Pho, at least until all the noodles and other ingredients are finished. You need to lean right over the bowl to avoid spattering everywhere. Finally, you can put down your chopsticks, pick up the bowl and drink the broth to polish it off.
What to Serve with Vegan Pho
Although this vegan pho is pretty much a meal by itself, you can serve with garnishes such as hot sauce, lime wedges, peanuts, or cashews.
More Vegan Soup Recipes
Vegan Pho Recipe
Vegan Pho is quick & easy to make as well as delicious, and packed with veggies and flavour.
Ingredients
6

cups

vegetable stock

no sodium

2

garlic cloves

minced

1

2-inch piece of ginger

peeled and sliced

1

cinnamon stick

3

star anise

3

whole cloves

0.5

oz

dried shiitake mushrooms

1 package

8

oz

wide rice noodles

cooked, drained and rinsed under cold water

2

baby bok choy

sliced in half, lengthwise

4

oz

firm tofu

cut into cubes

2

tbsp

tamari or soy sauce

1

cup

mung bean sprouts

1

bunch scallions

green and white parts, sliced

basil or cilantro

lime wedges

sriracha, sambal, or other hot sauce
Instructions
In a large pot, combine vegetable stock, garlic, ginger, cinnamon stick, star anise, and cloves.

Bring to a boil over medium heat, cover, reduce heat, and simmer for 15 minutes.

While broth is simmering, rinse dried mushrooms, then soak them in two cups warm water for 15 minutes or until tender. You can also use this time to cook the rice noodles if not already done.

Add the bok choy to the simmering broth for 5 minutes

Into 4 soup bowls, divide the cooked rice noodles and top with tofu cubes

Remove bok choy from the broth and divide among the bowls

Strain the mushroom soaking water and add to the broth, along with the mushrooms, bringing back to the boil.

Stir soy sauce into the broth, turn off the heat, and using a ladle, top the soup bowls with the broth & mushrooms

Top off each bowl with scallions, and bean sprouts

serve with basil or cilantro, hot sauce, and lime wedges.
Notes
I used dried mushrooms because the flavourful soaking water is a delicious addition to the pho broth. If you prefer to use fresh, use 6 ozs of fresh mushrooms and add them into the broth with the bok choy, along with two additional cups of vegetable stock.
Use tamari, or gluten-free soy sauce, to make this recipe gluten-free.
Star Anise can sometimes be hard to find. If you can't find it, use 2 tsp of Chinese Five Spice powder instead.
Nutrition
Serving:
1
g
Calories:
304
kcal
Carbohydrates:
59
g
Protein:
12
g
Fat:
3
g
Saturated Fat:
1
g
Sodium:
752
mg
Potassium:
444
mg
Fiber:
3
g
Sugar:
2
g
Vitamin A:
2544
IU
Vitamin C:
30
mg
Calcium:
106
mg
Iron:
2
mg
Tried this recipe? What changes did you make?
Let us know how it was!