For me, it wouldn't be St Patrick's Day without Slow Cooker Corned Beef and Cabbage. Corned Beef & Cabbage is a common Sunday dinner for Irish North Americans and a St Patrick's Day celebration meal for many in North America.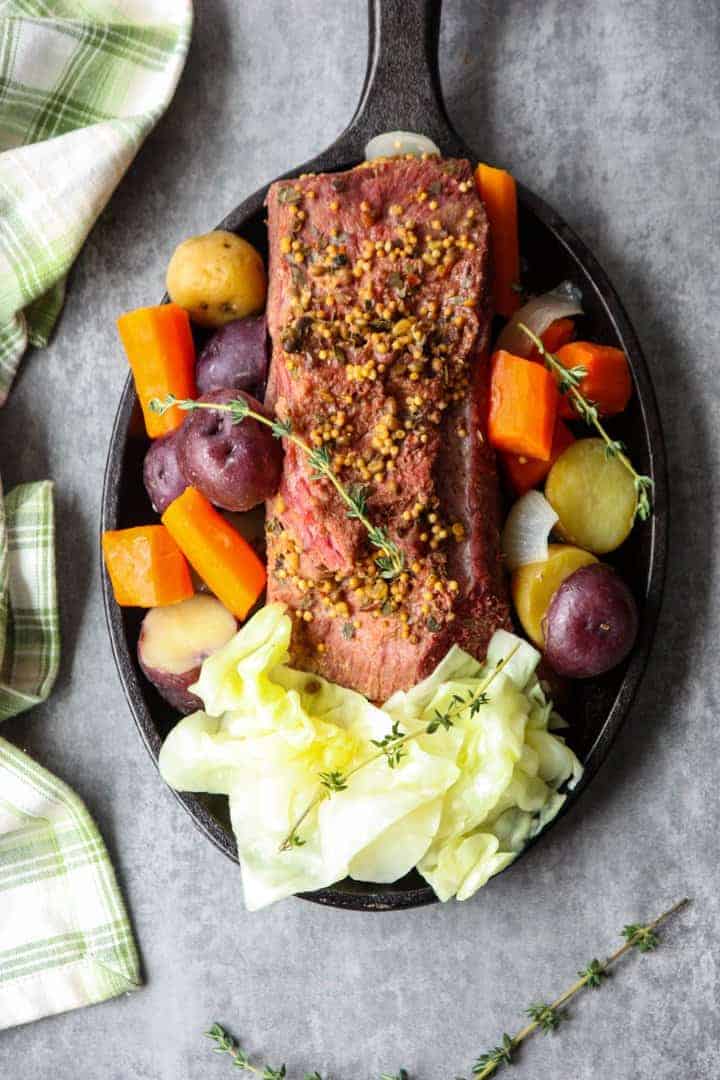 What Exactly is Corned Beef?
Corned Beef is a beef brisket preserved and cured in salt and pickling spices. The brisket is a tough cut of meat. However, the curing process of making corned beef, along with a slow and moist cooking method, renders it tender and juicy.
Corned beef is popular in the Irish and Jewish cultures in North America. There are other versions of corned beef and cabbage, like Jigg's dinner in the Canadian region of Newfoundland & Labrador, and Boiled Dinner in New England US states.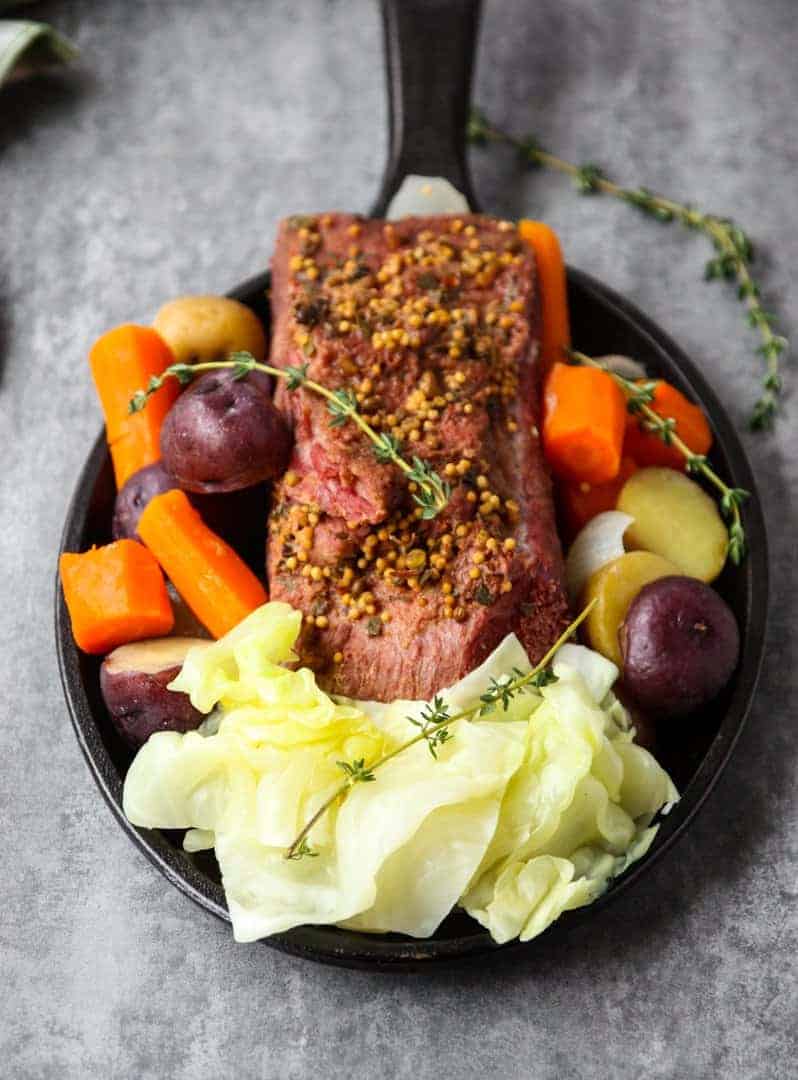 Why is it Called Corned Beef?
According to Wikipedia, the word "corn" comes from the Anglo Saxon language and describes any small, hard particle or grain. The term "corned beef" may refer to the granular salt used in the curing of the beef.
Is Corned Beef Really Irish?
Yes, and no. According to the Smithsonian magazine, In Ireland, people do not eat corned beef. Instead, lamb or pork is much more common in Ireland for St Patrick's Day feasts. This stems from an ancient Celtic view of the cow as a sacred animal. However, Irish immigrants to the US and Canada have been celebrating St Paddy's day with corned beef and cabbage for decades. In other words, it's safe to say that corned beef and cabbage is really Irish.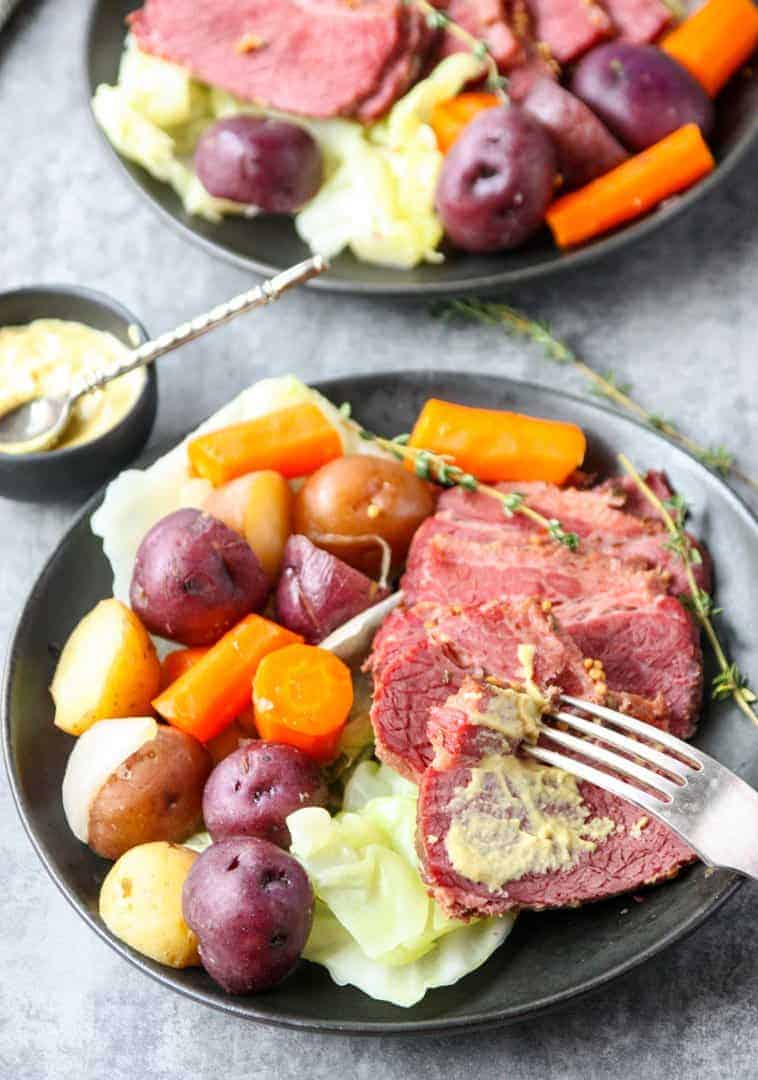 Is Corned Beef Healthy?
Like all cured meats, corned Beef contains sodium nitrite. Sodium nitrite is a food additive that prevents bacteria from growing (and also gives corned beef its pink colour). Sodium nitrite may cause damage to blood vessels, leading to heart disease.
However, many vegetables contain higher levels of sodium nitrites than those in cured meats. Eating cured meats in moderation, along with a healthy diet of fruits, vegetables, fish, nuts and grains, is safe.
Get more information on sodium nitrites here: sodium nitrate and sodium nitrite facts
What is the Difference Between Corned Beef Cuts?
There are two cuts of brisket for corned beef; the point cut, and the flat cut. The point cut is fattier and well-marbled. The flat cut is much leaner. Although the point cut, because of the extra fat, will be a bit moister and more tender, it also tends to fall apart when cooked.
I prefer the leaner flat cut for slow cooker corned beef and cabbage. Although it will still be tender after slow cooking, the leaner flat cut doesn't fall apart and is perfect for slicing.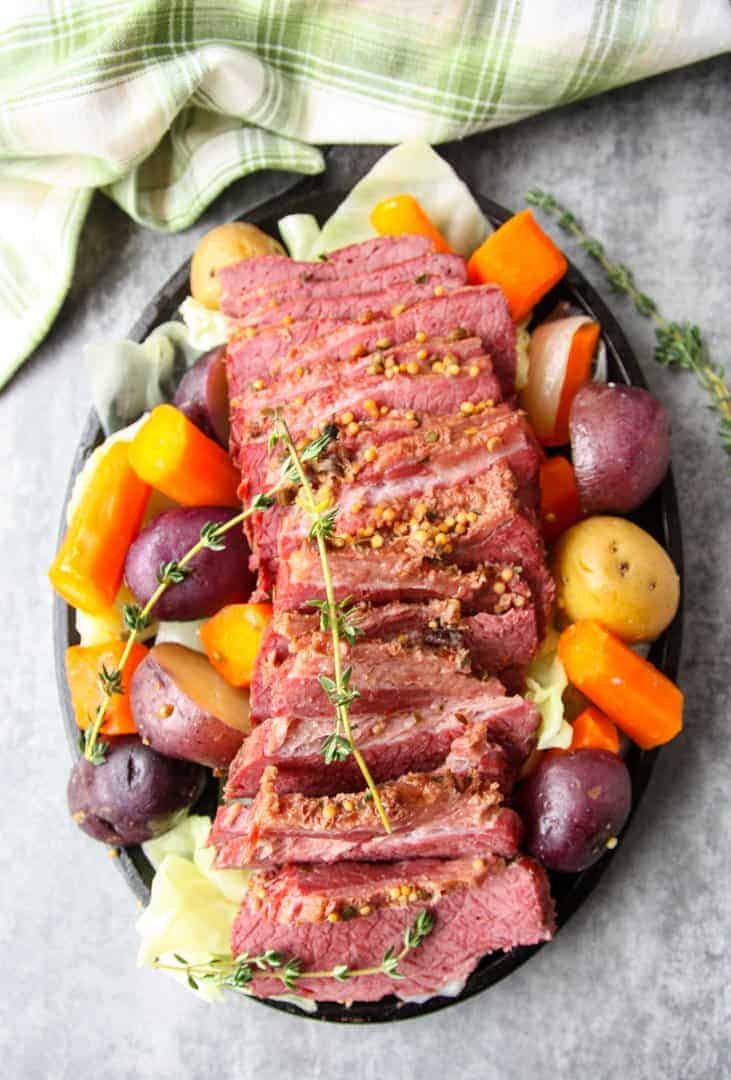 Why Use a Slow Cooker for this Slow Cooker Corned Beef and Cabbage?
I mentioned earlier, brisket is a tough cut of meat. However, slow, moist cooking methods will make it tender and juicy, and the usual cooking method is to boil the corned beef on the stovetop. This would mean simmering it for about 3 hours for a three-pound brisket.
This slow cooker corned beef and cabbage recipe eliminates the need for tending to a boiling pot. In addition, you end up with a delicious, tender and moist result.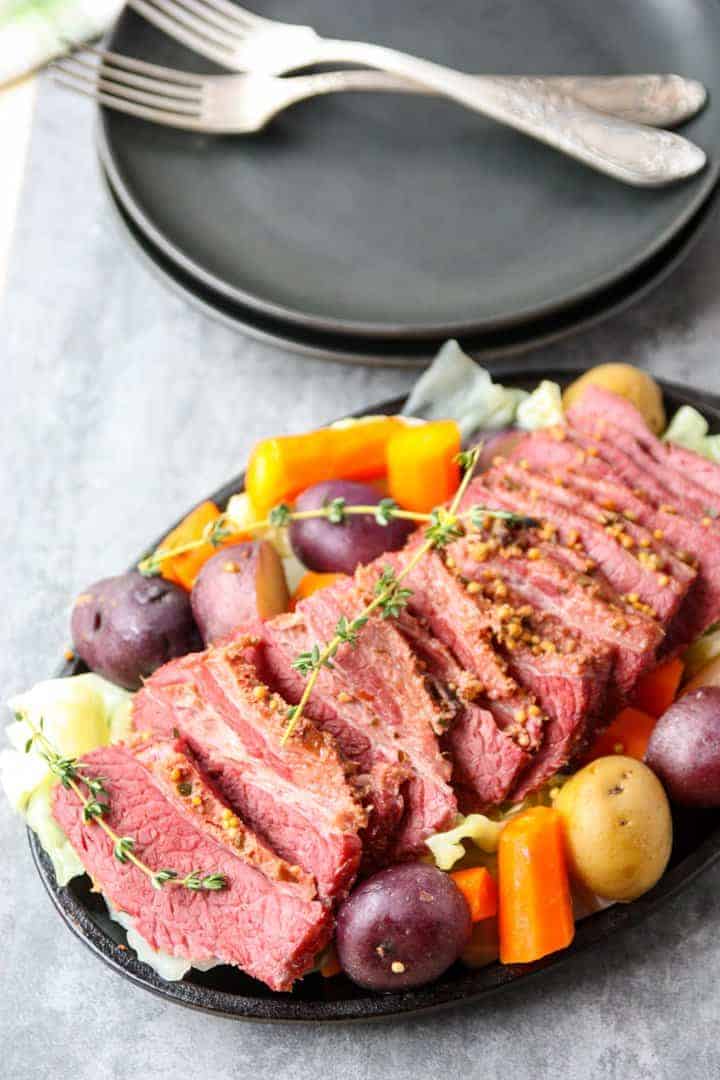 What to Do With Leftover Corned Beef
If you have leftover corned beef, great. You can make Reuben sandwiches or corned beef hash. Also, corned beef is also a tasty addition to omelets, soups and pasta dishes.
Can You Freeze Cooked Corned Beef?
Yes, you can freeze corned beef after it's cooked. And, if you want to freeze leftover cooked corned beef for future sandwiches, it's handy to freeze it in individual sandwich sizes.
More Irish Dishes
I like to make a loaf of Irish Soda Bread to serve along with slow cooker corned beef and cabbage. That soda bread is also delicious with Irish Beef & Guinness Stew. And, If you want to try something different for St Patricks Day Lunch, check out Irish Bread Pudding
Slow Cooker Corned Beef and Cabbage
Corned Beef and Cabbage are a traditional way to celebrate St Patrick's Day, and the slow cooker makes it easy, as well as tender and juicy.
Ingredients
3

lb

corned beef brisket

1

tbsp

pickling spice*

4

carrots

peeled & sliced into bite sized pieces

12

baby red potatoes

cut in half

1

onion

peeled & quartered

1

bay leaf

2

sprigs fresh thyme

8

oz

beer

2

cups

water

1

small green cabbage

cored & cut into 6 pieces
Instructions
Sprinkle the top of the brisket with pickling spice, pressing it into the meat.

Put potatoes, carrots, onion, bay leaf and thyme into the slow cooker and put the brisket on top of them

Pour the water and beer over everything.

Cover and cook on low 5 hours.

Add the cabbage to the slow cooker, cover and cook for another hour, or until meat and vegetables are very tender.

Transfer the meat to a cutting board and slice.

Serve with the vegetables, and dijon, or grainy mustard.
Notes
Sometimes corned beef briskets are sold already dressed with pickling spice, or with a spice packet included. If this the case for you, omit the pickling spice in the recipe.
Slow cookers vary greatly from model to model. My Breville slow cooker cooks quite hot, even on low, and the cooking time for this recipe is based on that. You may need a longer or shorter cooking time depending on your own slow cooker.
The beer in this recipe is optional, but it does add flavour, especially if you use a Guinness stout. You can replace the beer with water, if you prefer.
Using a gluten-free beer, or omitting the beer will make this recipe gluten-free.
Nutrition
Serving:
1
g
Calories:
646
kcal
Carbohydrates:
43
g
Protein:
39
g
Fat:
34
g
Saturated Fat:
11
g
Cholesterol:
122
mg
Sodium:
2832
mg
Potassium:
1740
mg
Fiber:
9
g
Sugar:
9
g
Vitamin A:
6958
IU
Vitamin C:
151
mg
Calcium:
121
mg
Iron:
6
mg
Tried this recipe? What changes did you make?
Let us know how it was!